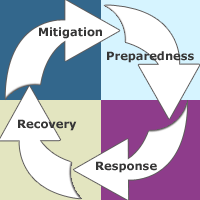 Four Phases of Emergency Management
A wide variety of disaster-related incidents could occur at any time which may impact operations within Upstate Medical University and Hospital. Emergencies may be internally or externally based, including, but not limited to, mass casualty incidents, chemical spills, weather related events such as snow and severe weather, utility failures, bomb threats, pandemics, Emerging Infectious Diseases (EIDs), and natural disasters.
The Department of Emergency Management and the Emergency Management Committee maintain a procedural manual that establishes the Upstate Medical University and Hospital Emergency Operations Plan (EOP). This "All Hazards" approach to Emergency Management includes policies, procedures and plans which follow the four phases of Emergency Management: Mitigation, Preparedness, Response, and Recovery.
All Hazards Approach
Upstate Medical University and Hospital use an all hazards approach to emergency management. This approach addresses a wide variety of disasters through the implementation of a unified plan and the use of the Incident Command System. The plan employs an integrated response initiative in cooperation with the whole community such as emergency response agencies and hospitals in Onondaga County, as well as with 25 other hospitals in the Central New York Region. The plan is universal, so it can be applied to manage a wide range of risks, situations, incidents, and disasters.
Upstate Medical University and Hospital follow and maintains compliance with the 11 elements contained in the National Incident Management System (NIMS) Implementation Objectives for Healthcare Organizations as a foundation of our disaster planning and response system.