Deidre Keefe M.S., CHES
Program Manager
Deidre Keefe, M.S., CHES, joined the Office of the President in 2017, as the Project Manager-ECHO where she is responsible for transforming the way education and knowledge are delivered to people in CNY's rural and underserved communities. Project ECHO, a worldwide health initiative, is new to Upstate Medical University and the CNY community. Deidre is looking forward to planning new growth opportunities for Project ECHO and managing complex projects with internal and external stakeholders.
Deidre, a nationally recognized Certified Health Education Specialist (CHES), received her immersion training at the University of New Mexico's ECHO Institute in October 2017. She has been integral to the launch of SUNY Upstate's ECHO program and is looking forward to bringing new ECHO's to the University that will have a lasting impact on regional and national healthcare outcomes. Please contact Deidre with any questions or other needs relating to Project ECHO.  
Phone - 315-464-7861
Email - keefed@upstate.edu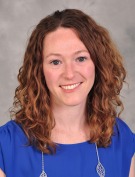 Margaret (Margie) Greenfield, PTA, M.S., CHES
Endocrinology Program Coordinator

Margie is responsible for planning and implementing endocrinology ECHO educational activities and teleECHO clinics. Additionally, she is a liaison between project sites and partners working closely with all parties to assist with facilitating the teleECHO clinics. To learn more about Margie Greenfield or the Endocrinology ECHO clinic please go to our Endocrinology ECHO page or email Margie at greenfma@upstate.edu.