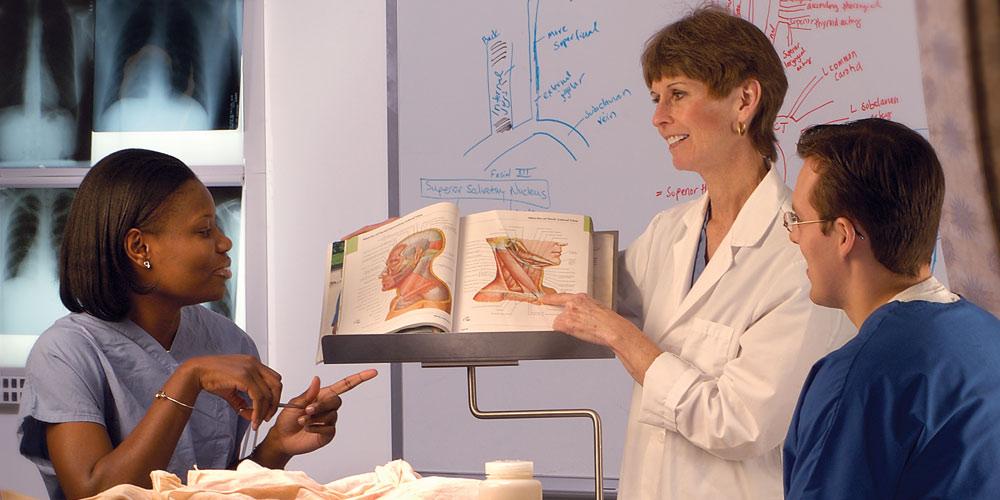 The College of Medicine characterizes the complete Upstate mission via its exceptional faculty members who teach, perform research and provide patient care.

The Dean's Office at the College of Medicine oversees the hiring and appointments of faculty in the College of Medicine, the College of Graduate Studies, and the Masters of Public Health program, which is housed in the college.

The Dean's Office also confirms the appointments of volunteer faculty, most of whom are community-based physicians who help Upstate carry out its educational mission.

More information on services and support for faculty can be found at the Faculty Affairs and Faculty Development website.
CLINICAL CHAIRS
Xiuli Zhang, MD
Anesthesiology
4143 University Hospital
Kim Hare, 315-464-4891
William Paolo, MD (Interim)
Emergency Medicine
550 E. Genesee STE 103
Anne Peer, 315-464-6224
Clyde Satterly, MD (Interim)
Family Medicine
200 Madison Irving Ctr (MIMC)
Judy Smith, 315-464-7010
Sharon Brangman, MD
Geriatrics
550 Harrison Suite A
Anne Lutz, 315-464-5167
Sriram Narsipur, MD, FASN, FACP 
Medicine
5142 University Hospital
Deb Shelby, 315-464-4505
Luis J. Mejico, MD
Neurology
813 Jacobsen Hall
Tina Gilman, 315-464-5302
Satish Krishnamurthy, MD
Neurosurgery (interim)
611 Jacobsen Hall
Stephanie Dominic, 315-464-5490
John Nosovitch, MD (Interim),
Obstetrics & Gynecology
3rd Fl Crouse, West Tower
Leslie Anderson-Gonzalez, 315-470-7575
Robert Fechtner, MD
Ophthalmology
550 Harrison Ctr, Suite L
Monica Tubolino, 315-464-8111
Stephen Albanese, MD
Orthopedic Surgery
6620 Fly Road
Melanie Hajdasz, 315-464-8641
Scott Tatum, MD 
Otolaryngology
242 Campus West Bldg (CWB)
Geoff Ameele, 315-464-7281
Michel Nasr, MD (Interim)
Pathology
3330 University Hospital
Christine McGivney, 315-464-6780
Gregory Conners, MD
Pediatrics
5400 University Hospital
Gina Romero, 315-464-5451
Robert Weber, MD
Physical Medicine & Rehab
308 Jacobsen Hall
Mary Baker (MiMi), 315-464-8672
Thomas Schwartz, MD
Psychiatry
713 Harrison St., Room 335
Rosemarie Earle, 315-464-3105
Jeffrey Bogart, MD
Radiation Oncology
628 University Hospital
Jamie Mellone, 315-464-8235
Michele Lisi, MD (Interim)
Radiology
3523 University Hospital
Shari Sterle-Grant, 315-464-7433
Robert Cooney, MD
Surgery
8141 University Hospital
Barbara Myers, 315-464-5549
Gennady Bratslavsky, MD
Urology
234 Campus West Bldg (CWB)
Diane Mantooth, 315-464-4473
BASIC SCIENCE CHAIRS
Patricia Kane, PhD
Biochemistry & Molecular Biology
4265 Weiskotten Hall
Penny McPhilmy, 315-464-8705
Margaret Maimone, PhD (Interim)
Cell & Developmental Biology
1135 Weiskotten Hall
Lisa Bonaventure
Phone: 315-464-5211
Steven Thomas, MD
Microbiology & Immunology
2204 Weiskotten Hall
Jennifer Pinkel, 315-464-7685
Francesca Pignoni, PhD 
Neuroscience & Physiology
3223 Weiskotten Hall
Wendi Burnette, 315-464-7752
Richard Wojcikiewicz, PhD
Pharmacology 
6293 Weiskotten Hall Addition
Kay Magnarelli 315-464-7949
ACADEMIC DEPARTMENTS
Kathy Faber-Langendoen, MD
Bioethics & Humanities
618 Irving Avenue
Andrea Musolino, 315-464-8464
Christopher Morley, PhD
Public Health & Preventive Medicine
2262 Weiskotten Hall
Alyssa Indelicato, 315-464-1700