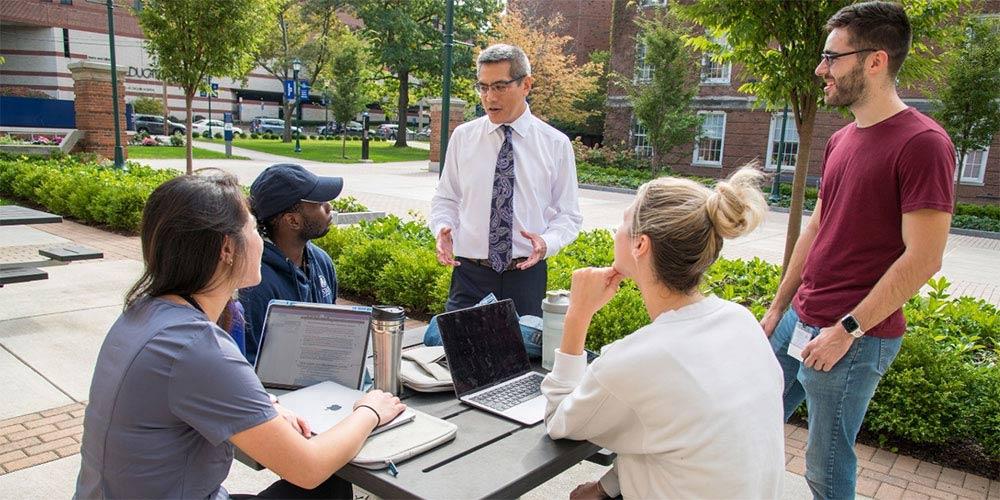 Summary of Curriculum Proposals
This proposed overall curriculum modification includes four major structural elements:
Revision of the pre-clerkship foundational science curriculum from a two-pass organ-based, four-semester structure, to a single-pass organ-based, three-semester structure. As part of this structural change, lecture and small group teaching and learning will increasingly use more active and experiential delivery methods, including flipped classrooms, problem-based, and team-based learning.
Introduction of a longitudinal clinical experience in the pre-clerkship curriculum, to include an outpatient preceptorship, simulation, inpatient sessions, interprofessional education, and community engagement. This will foster further integration of clinical with foundational science curricula.
Expansion of curriculum in health systems science and health equity throughout the first three years of the curriculum.
Addition of a 3-Year Accelerated MD Pathway
The proposed three-year pathway (3YP) will use the same curriculum structure, instructional formats, and assessments methods as the traditional four-year pathway, except for the following:
3YP students will be required to complete a minimum of 18 elective credits for graduation compared to a minimum of 25 credits for 4-year students.
In order to complete all credits within the time allotted and to foster relationships with mentors in their chosen residency, students will be required to take 8 weeks of required elective credits as customized electives during the summer between the first and second year within the discipline of their chosen residency; this will count toward the 18 required elective credits.
Goals of Curriculum Renewal
Enhance the student educational experience by

Further integrating foundational and clinical sciences through a longitudinal
pre-clerkship clinical experience and more foundational science in the clerkships
Increasing use of experiential/active learning
Fostering innovation in the curriculum

Enhance the curriculum in health systems science and health equity.
Develop a 3-year track for appropriate candidates, which would improve the efficiency and lower the cost of medical school for those students.
Recruit and retain students interested in staying in central New York for their careers by offering curricular options that support them.
Refine and/or establish more explicit individualized educational opportunities to support professional and career goals