Frequently Asked Questions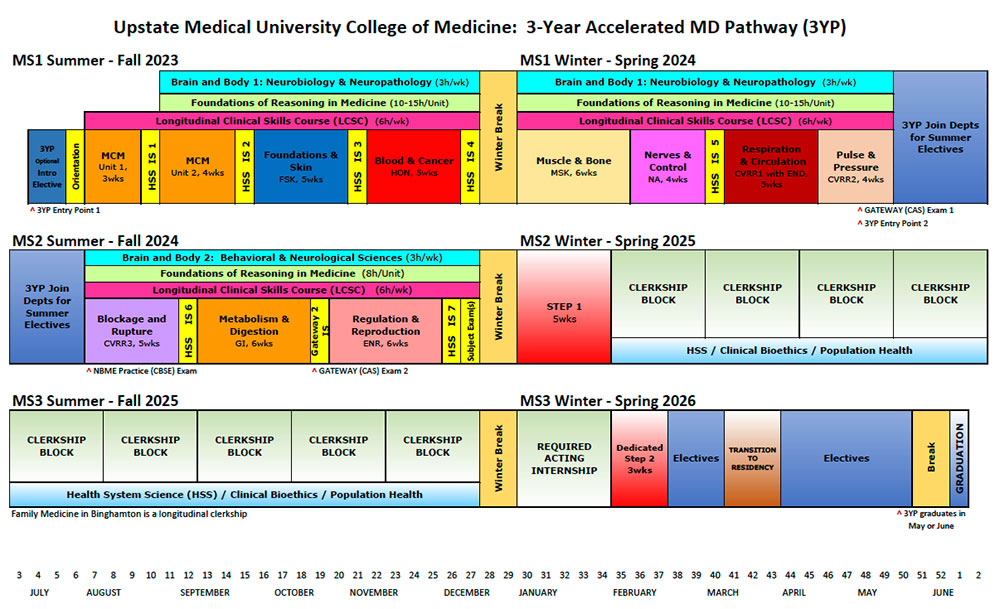 Expand all
How will the students complete two years of learning in three semesters? What will be cut?
The reduction in preclerkship learning time is less severe than it appears.  The Spring of the second year was always a short term, with classes ending in mid-March, and the last Unit was always light, to allow time for Step 1 preparation.  This block schedule also envisions lengthening the first year by 2 weeks, and shortening the Dedicated study period for the new Pass/Fail Step 1 exam.  We also anticipate increased efficiency from the new single-pass format of this curriculum, with painless cutting of the current curriculum's first-year previews of MS2 material and second-year reviews of MS1 material.
When can students apply to/enter the 3-year pathway?
They can apply before the start of medical school, in spring of the first year of medical school. MD PhD students may apply close to the completion of their PhD.
What residencies will participate in direct admission to their programs from the 3-year pathway?
As of October 2021, five residencies intend to participate: Emergency Medicine, Internal Medicine, Neurology, Pediatrics, and Psychiatry. Others are considering the opportunity, and it is open to all residencies. 
What is being cut from the preclerkship curriculum to make it shorter?
It is likely that there will be some cuts of individual sessions, but our emphasis in accelerating the curriculum is on improved efficiency.  The new single-pass model will eliminate the need for MS1 previews of MS2 material and MS2 reviews of MS1 material.  We will also work on moving away from the full-hour class model, replacing some sessions with shorter modules.  Starting in Summer 2022, we will also double the size of the MedSet summer preparatory program, to help reduce the time needed for review and remediation.
The 3-year track looks very fast. What will happen to students who can't keep up?
By design, the 3-year track is identical to the 4-year track for almost its entire length.  3-year students will be able to "decelerate" at will, joining the majority of their class in the 4-year track.