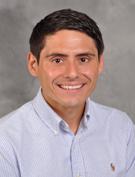 The interdisciplinary research in Dr. Herberg's laboratory is centered around understanding cellular aspects of tissue formation and homeostasis in health and disease. Our glaucoma research focuses on two specialized tissues: the trabecular meshwork and the lamina cribrosa. The trabecular meshwork is located in the anterior chamber angle between the cornea and the iris. It regulates the outflow facility of the aqueous humor and thus controls intraocular pressure. The lamina cribrosa is located in the posterior section of the eye. It is the main structural element of the optic nerve head and supports the retinal ganglion cell axons as they exit the globe.
---
Contact:
Dr. Samuel Herberg, PhD
Assistant Professor, Ophthalmology & Visual Sciences, Cell Biology & Developmental Biology, and Biochemistry & Molecular Biology
Location:
4609 Institute For Human Performance
Phone:
(315) 464-7773
Email:
herbergs@upstate.edu
Dr. Herberg is a Cell Biologist with postdoctoral training in Tissue Engineering and Regenerative Medicine. He collaborates with researchers at Duke University, Texas Tech University Health Sciences Center, the University of California - Irvine, and Wake Forest School of Medicine. Dr. Herberg's work has been published in Acta Biomaterialia, Advanced Science, Biochemical and Biophysical Research Communications, Bone, the Journal of Orthopaedic Research, Nanotheranostics, Stem Cells Translational Medicine, and Tissue Engineering Part A, among others. He is a member of the American Association for the Advancement of Science, the Tissue Engineering and Regenerative Medicine International Society, and the Association for Research in Vision and Ophthalmology.