Preethi S. Ganapathy, MD, PhD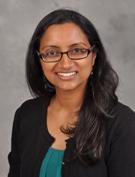 The research in Dr. Ganapathy's laboratory focuses on glaucoma, a leading cause of blindness. Her research investigates two specialized tissues: the lamina cribrosa and the trabecular meshwork. The lamina cribrosa is located in the posterior section of the eye. It is the main structural element of the optic nerve head and supports the retinal ganglion cell axons as they exit the globe. The trabecular meshwork is located in the anterior chamber angle between the cornea and the iris. It regulates the outflow facility of the aqueous humor and thus controls intraocular pressure.
Contact:
Dr. Preethi S. Ganapathy, MD, PhD
Assistant Professor, Ophthalmology & Visual Sciences
Location:
4606 Institute For Human Performance
Email:
ganapatp@upstate.edu
Dr. Ganapathy is a Clinician-Scientist. She completed her Glaucoma Fellowship training at Duke University and has a degree in Cell Biology. The overarching goal of her laboratory is to answer clinically relevant questions about glaucoma pathophysiology at the bench, to better diagnose and treat patients in the clinic. Dr. Ganapathy's work has been published in the American Journal of Ophthalmology, Current Eye Research, and Investigative Ophthalmology & Visual Science, among others. She was a Heed Fellowship recipient (2017-2018), and is a current member of the American Academy of Ophthalmology, the American Glaucoma Society, and the Association of Research in Vision and Ophthalmology.