Ocular Trauma and Disease
Foreign bodies entering the eye cause considerable pain and may interfere with eye function.  In fact, eye trauma is the leading cause of monocular blindness in children and young adults.  Understanding how ocular trauma and ocular surface disease affect the eye at the molecular level is the focus of Dr. Ann Barker-Griffith's research.
A board-certified ophthalmologist specializing in ocular pathology, Dr. Barker-Griffith uses electron microscopy to observe the ultrastructure of tissue in eyes with ocular diseases.  She collaborates with Dr. Jerrold Abraham, a pathologist with expertise in scanning electron microscopy, by energy dispersive x-ray spectroscopy (SEM-EDS) at Upstate Medical University.  She has also been active in educating people about dangerous "toys" such as the potato gun.
Dr. Barker-Griffith's pathologic experience and knowledge in regards to cases on "Shaken Baby" have resulted in her being sought to testify at trials, collaborating with Medical Examiner's Offices both locally as well as in other counties in the CNY area.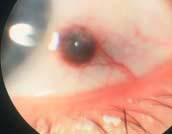 This pigmented episcleral nodule was thought to be a melanoma extending outside the eye from the ciliary body. The patient's vision was poor since childhood, the result of a BB gun injury.
Interior of enucleated eye shows rusty colored tissues (siderosis oculi), cataract, and a metallic foreign body surrounded by scar tissue (boxed area).
"Proliferation of ocular injuries is a strong stimulus for me to specifically identify the different materials involved in these injuries and to alert people about ways to protect their eyes from dangerous "toys" ranging from potato guns to fireworks."