Flu Clinics Calendar
Upstate Medical University Student Health Office
Syracuse Campus
Mailing Address:
750 East Adams St., Syracuse, NY 13210
Location: 175 Elizabeth Blackwell St., 4th floor, Syracuse, NY 13210
Phone: (315) 464-4260
Fax: (315) 464-5471
Hours: Mon.-Fri., 7:00 am-4:30 pm
Medical Director: Jarrod Bagatell, MD
Clinical Manager: Bridget McCarthy, FNP
Clinical Manager: Linda Goff, FNP

Mid-Levels:
Jessica Di Peso, FNP
Sara Austin-Wilson, PA

Clinical Team:
Sarah Pugliese, RN
Kim Fougnier, RN
Kristina Chapman, RN
Janna Pecheny, RN
Josephine Anthony, RN
Amy Spicer, RN
Janet Leonard, LPN

Wellness Coordinator: Suzanne Brisk, MS, CWP
Office/Administrative Manager: Laytinya Brooks, MHA
Student Administrative Assistant: Lori Brooks
Phone: 315 464-5470
Email: eshealth@upstate.edu
Upstate Family Medicine
Phone: 315 492-3400 (after hours, holidays and weekends)
Binghamton Campus
Student Health Physician: Walid Hammoud, MD
Phone: 607 762-2333
Binghamton Campus Student Health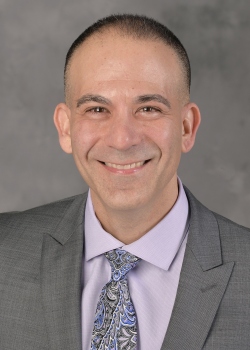 As the director of Employee/ Student Health and a graduate of Upstate's Medical School Class of 1993, I welcome you to Upstate! After practicing Family Medicine in Central New York for over 20 years, I feel privileged to have returned to Upstate in the capacity of director of these health services.
My team of medical professionals and staff are here to serve our Upstate Medical University family with the compassion and care that represents Upstate.
We are proud to provide medical care for our matriculated students enrolled at the University. This includes visits for acute illness, disease management, routine physicals, and even gynecologic care provided by our team of Nurse Practitioners. Students can also be referred for services such as labs, radiologic studies, and specialty care as needed.
We encourage you to explore the many resources provided by Upstate's Pathway to Wellness website and reach out to us should you have any questions or concerns.
On behalf of my team at Employee/Student Health, we welcome you and wish you a healthy and meaningful experience while here at Upstate!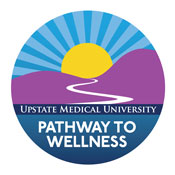 Jarrod Bagatell, MD
Director of Employee/Student Health