Clinical Research Unit
Institute For Human Performance (IHP)
Rm. 1223, 1st Floor,
505 Irving Avenue
Syracuse, NY 13210
Map & directions
Phone:
315 464-9004 or 315 464-9003
Fax:
315 464-9002
Hours:
7:00 a.m. - 4:30 p.m. Weekend hours when needed
Name:
Teresa Koulouris, CRU Nurse Manager
Email:
koulourt@upstate.edu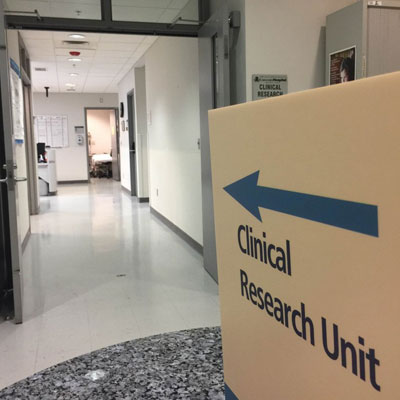 The Clinical Research Unit is a specialized unit dedicated to conducting outpatient clinical research funded by the government, industry or foundations.
Facilities:
8 Research Nurses
Research Physician Assistant
Clinical Research Associate / Laboratory Technician
Nurses Station
10 Private Rooms
Monitor Space Available
2 Laboratories for Processing Specimens & storing supplies
2 Refrigerated Centrifuges
-20 C Freezer with Aero Scout
-80 C Freezer with Sensaphone
Specimen Refrigerator with Aero Scout
Dry Ice for Lab Transport
ECG machine
IV Equipment
Locked Refrigerator for Medications
Ambient Temp (Aero Scout) Monitored Cabinets for Medications
Zoll Defibrillator
Emergency Drug Box
Oxygen
Suction Equipment
Locked Cabinets for Records
Supply Storage
Power source generator back-up on all equipment
Nourishment Center
Core Fee Schedule: The fee is variable depending on the duration and intensity of services rendered.