Clinical Research Unit
Institute For Human Performance (IHP)
Rm. 1223, 1st Floor
505 Irving Avenue
Syracuse, NY 13210
Google Maps & Directions
Phone:
315 464-9004 or 315 464-9003
Fax:
315 464-9002
Name:
Kimberly Hope, CRU Nurse Manager
Email:
hopek@upstate.edu
Hours:
7:00 a.m. - 4:30 p.m.
Weekend hours when needed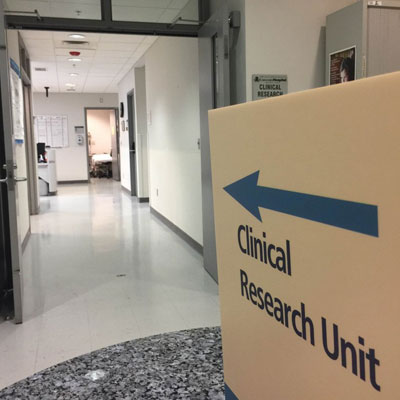 The Clinical Research Unit is a specialized unit dedicated to conducting outpatient clinical research funded by the government, industry or foundations.
Facilities:
8 Research Nurses
Research Nurse Practitioner
Clinical Research Associate / Laboratory Technician
Nurses Station
9 Private Rooms
Monitor Space Available / Cubical space for PI's
2 Laboratories for Processing Specimens & storing supplies
2 Refrigerated Centrifuges
-20 C Freezer with Aero Scout
-80 C Freezer with Aero Scout
Specimen Refrigerator with Aero Scout
Dry Ice for Lab Transport
ECG machine
IV Equipment 
Medication Room / locked refrigerator with Aero Scout
Ambient Medication Incubator with Aero Scout
Zoll Defibrillator
Emergency Drug Box
Oxygen
Suction Equipment
Locked Cabinets for Records
Supply Storage
Power source generator back-up on all equipment
Nourishment Center
Core Fee Schedule: The fee is variable depending on the duration and intensity of services rendered.