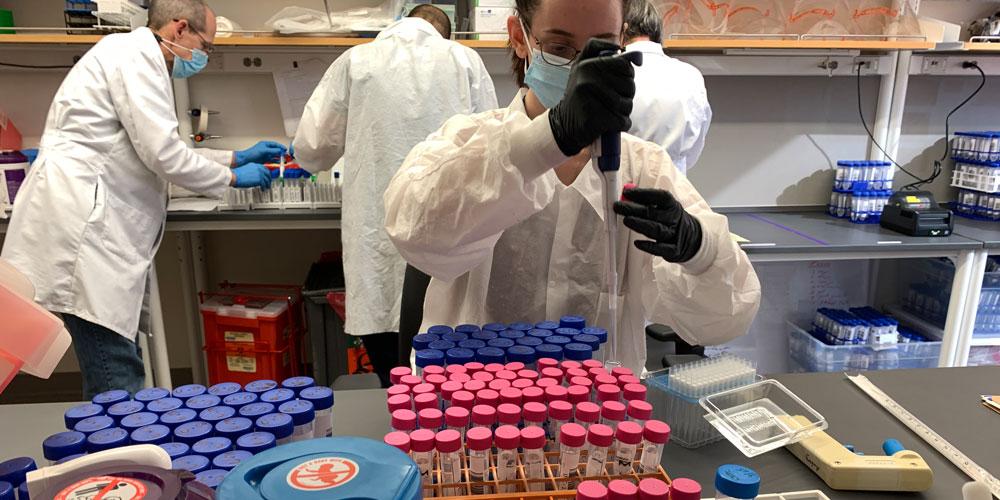 COVID-19 Surveillance Pooled Testing with Saliva
Upstate Medical University is currently providing COVID-19 surveillance pooled testing to SUNY campuses and other schools and groups across New York State. Pooled testing provides sensitive, accurate and rapid feedback to college campuses about the presence of SARS-COV2 in saliva samples from individuals on campuses.
SUNY Upstate Medical University has been approved by the New York State Department of Health to undertake pooled surveillance testing for Covid-19—an innovative method where numerous samples can be run as part of one test. The pooled testing protocol was developed and validated by Upstate and Quadrant Biosciences, and will use saliva samples, pooled in batches as small as 10 and as large as 25 samples.
The pooled testing allows for about 10 to 25 people to be screened in one test. The testing can be done using saliva rather than by swabs that are inserted in a patients' nose. Individuals administer the tests themselves, swabbing their mouths for 10 or 15 seconds each, and provide the saliva samples to medical personnel.
Their samples are combined into one, which is tested for coronavirus. A negative test means that all 10-25 people in the group are presumed at the time to be coronavirus-free. A positive test for the pool would mean every person in that group would need to be individually tested by a PCR test.
The links at left will provide additional details on pooled testing.
For more information on pooled testing, please email pooltesting@upstate.edu