Expand all
How can my campus participate in the SUNY Surveillance Testing program?
Contact Steve McClintic at PoolTesting@Upstate.edu and indicate the following information:
Campus name and contact person

Number of Students/Faculty/Staff to be included in the testing

Number of collection stations anticipated (each station is predicted to

handle 50+ people/hour)

Dates of expected collections (please know that there is limited daily

capacity for testing, so please be flexible with these dates).
Please be aware that capacity is being made available on a first come, first served basis.
How do I get the testing supplies that Upstate is providing?
All of the testing supplies that Upstate will be providing are available in Syracuse on the SUNY Upstate campus. Most campuses are collecting the testing supplies by sending a van to SUNY Upstate; however, you can also provide your campus UPS account information and all the testing supplies will be shipped via UPS ground (if you choose this method, please allow four days for packaging and shipping). For UPS shipping, please contact us: surveillance.testing@quadrantbiosciences.com.
What materials does SUNY Upstate provide?
The supplies provided by SUNY Upstate include the following items:
Large instruction cards (5)

Barcoded swab kits (1 per student)

Labeled centrifuge pool collection tube (1 per pool)

Labeled collection bag (1 per pool) sufficient to hold 12 collection tubes

Tube rack to hold 12 samples and pool collection tube (the Collection

Rack) (2 per station)

Tube rack to hold 25 full/closed pool collection tubes (the Pooled Rack) (1

per station)

Transportation container and lid for pool bags (each containing 12 empty collection tubes)

Transportation container and lid for pool collection tubes
What will my campus be expected to provide?
Each participating campus will provide the following:
Personnel at each site. Each collection station will need 4 personnel:
1 Greeter to provide general information and instructions; 2 Attendants to distribute saliva collection kits and receive completed collections; 1 Pooler for combining samples of 12 into a single saliva specimen. Each collection station is estimated to have processing capacity of 50+ individuals per hour. If the second Attendant can facilitate two students concurrently, collection stations could achieve up to 100 individuals per hour.
Two tables for each collection station (one for materials to distribute to individuals being tested and one for pooling purposes)
Container of disinfecting lab wipes (1 per station)
PPE, consisting of box of disposable paper gowns with cuffed sleeves, box of plastic gloves, N95, KN95 or fluid masks, and facial shield or goggles (3 each per station)
Large trash receptacles (1 per station) with bags and ties
Social distancing reminder marks and signs
Hand sanitizer stands
In addition to these materials, participating campuses will be expected to arrange for the transportation of testing supplies from SUNY Upstate (Syracuse, NY) as is described above and, also, on the same day or the day following specimen collections, each participating campus will arrange for the delivery to SUNY Upstate of (i) pooled saliva specimens , and (ii) bags containing used saliva collection vials.
Finally, each site is required to have adequate WiFi or cellular networking in order for test subjects to complete registration.
Is there a video we can send to students to better explain this process?
Yes! The following video can be sent to students:
Is there a video which better explains the roles of the on-campus staff?
What are the performance characteristics of this surveillance testing?
The test kit we are using has been successful in identifying as few as 1 infected person in every 25 pooled samples. For this testing, we had adopted a more conservative approach of pooling samples for 12 people.
What do Students/Faculty/Staff need to bring with them on the day of testing?
Anyone being tested must bring their (i) campus ID and (ii) personal electronic device. Prior to the testing date, all those to be tested should be instructed not to eat or drink anything, including chewing gum, mints or lozenges, within 30 minutes of reporting to the collection site, and should not have brushed their teeth or used mouthwash within the past three hours. In addition, test subjects must abstain from smoking, vaping, or using smokeless tobacco products for 30 minutes prior to the test.
How can Students/Faculty/Staff register for surveillance testing?
Anyone who participates in this surveillance testing should register here:
If a Student/Faculty/Staff forgets to bring their personal electronic device to testing, can they still get tested?
No. They should return to the testing site once they have their personal electronic device to complete the testing. Given the potential for virus transmission through contact, we do not recommend lending electronic devices to Students/Faculty/Staff for this purpose.
Campuses will be delivering the pooled saliva specimens and bagged collection vials to SUNY Upstate using their own vehicles and staff. How late will SUNY Upstate receive samples? Where should deliveries be made? Who can I contact for more information about our specimen deliveries?
SUNY Upstate can receive samples from 8 am until 7 pm at the Institute for Human Performance, 505 Irving Ave., Syracuse, NY 13210. Delivery should be made through the rear building entrance (accessible through the garage entrance facing Madison St). Free parking is provided in the garage for up to 30 minutes. The campuses should contact Rhianna Ericson via email at EricsonR@upstate.edu or by phone/text at 540-903-5514 to confirm time and date of deliveries.
Should each campus maintain their own list of students by pool?
If campuses have identified a method of grouping their students to minimize the expected number of "positive" pools, they should employ that method. If not, some ideas are to group based on geography of origin (i.e. students arriving from high-transmission states), common activities (i.e. sports teams), and year of matriculation (i.e. 1st year students). Regardless of campus pooling methodologies, SUNY Upstate will maintain a list of students and whether they were included in a pool which indicated "presumptive negative" or otherwise.
What reporting will each participating campus receive?
Following our laboratory processes, SUNY Upstate will report back to the campuses the following information:
Students/Faculty/Staff who participated in the surveillance testing (including ID number, Last Name, First Name and DOB); and
Those Students/Faculty/Staff whose pooled sample tested "negative" will be indicated with a "presumptive negative" label.
How should a collection station be set up?
The following diagram is an example of how a collection station can be set up: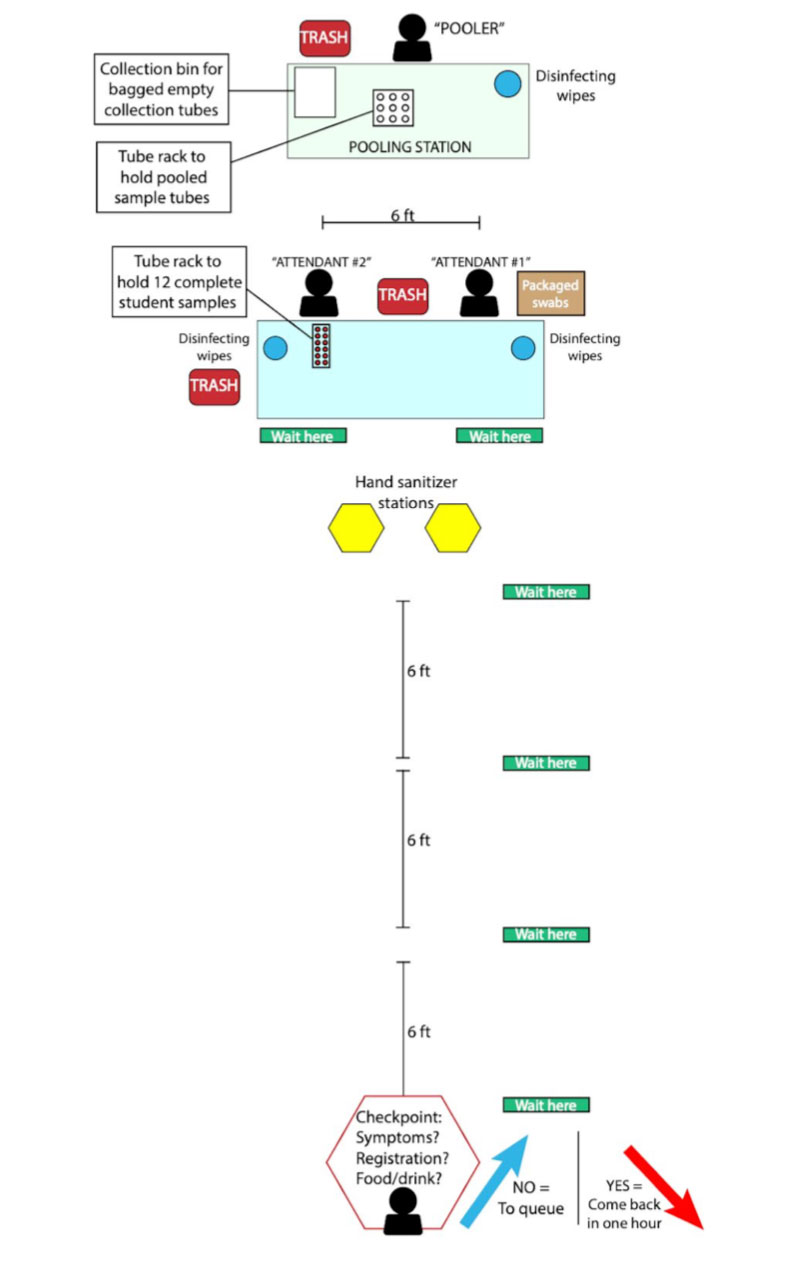 Can a campus choose to have fewer than 12 students per pool? If yes, will there be a different cost/student?
Saliva samples should be grouped into pools of 12 wherever possible. If on occasion it is not feasible to have a pool of 12 samples, you may create a pool with as few as 6 samples. Upstate based the price that it is offering this testing at on most pools containing 12 samples. There may be an additional charge if there is a significant number of pools with fewer than 12 samples to cover Upstate's increased costs in performing the testing. In no event should you create a pool of more than 12 samples.
Why do you need a standing order?
A standing order is required for the reflex testing (not pooled testing) to comply with NYS and CLIA regulations. We also need a valid NPI number to bill many insurances. The standing order needs to be time limited, so we have set an end date to the end of the calendar year or June 30th. The ordering physician has a responsibility to ensure that a patient receives proper follow-up for a positive result, because both the campus and County Health Department will also be notified and will follow-up with the patient this responsibility is mitigated from a practical perspective.
How does the campus get the results?
You will receive initial pooled results within 24-36 hours of the test being received at the Upstate campus. You will be notified that results are available for your review via an e-mail that will grant you secure access to a spreadsheet that will list pool number, individuals in that pool and if the pool is positive or negative. If there is a positive pool the campus will need to contact those students/employees to be handled per your campus protocol. Students in a negative pool can only be informed that they were in a negative pool and that they are presumed negative. If you participate in our individual reflex testing program you will be notified of the results approximately 24 hours after the pooled results are released. These results will be reported in an updated spreadsheet under the "Reflex Testing" tab. The ordering physician will also have access to the results either through a faxed copy, mailed paper copy or an electronic copy if they have access to Upstate's Epic EMR. NOTE: Students will receive an e-mail at the same time the individual reflex tests are released to the spreadsheet offering them to participate in the MyChart Portal to our Epic EMR. It is possible that a student will review their results prior to the Campus Health Office or Provider reviewing them.
What is a reflex test?
This is a Clinical Laboratory term that describes an automatic (reflex) follow up test based on the result of another test. In the case of our pooled testing program, if there is a positive pool we automatically or reflex all samples to an individual test.
How can a student get their test results?
If the campus is participating the reflex testing program the student can get their results through MyChart or if they choose not to sign up they can obtain a hard copy by sending a request to releases@upstate.edu an provide their legal name and date of birth. Individual results from pooled surveillance testing are not reportable per CDC/FDA guidelines.
How long do the collection kits last?
The collection kits have a shelf life of 1 year and the expiration date is on the kit. Once the collection kit is "activated" by replacing the swab back into the collection tube we can extract RNA from the sample for up to 60 days.
What are the storage guidelines?
The kits, both before and after collection should be stored at room temperature. Avoid extreme temperatures.
What about insurance?
Insurance does not covered pooled testing. It does cover the individual reflex testing. The rationale is that if the person is in a positive pool they were potentially exposed to an individual with COVID. We use CPT Code 87635 for the Lab test with a diagnosis code of Z20.828, Contact with and (suspected) exposure to viral communicable diseases.
What is the cost to Students/Employees?
There is no cost to students or employees for either the pooled testing or individual reflex tests. Some insurance carriers may attempt to bill for co-pays or deductible, this is in violation of the Families First Coronavirus Response Act (Attachment PLAW-116bubl127) Section 6001 and the CARES Act Section 3202 (Attchment-PLAW-116bubl136).
What if a student doesn't have insurance?
In that case the student can enter "No Insurance" in the first Insurance Field of the registration application and "NA" in the remaining insurance fields
What if the campus chooses to directly pay Upstate for the reflex testing?
In that case the student can enter "Campus Pays" in the first Insurance Field of the registration application and "NA" in the remaining insurance fields