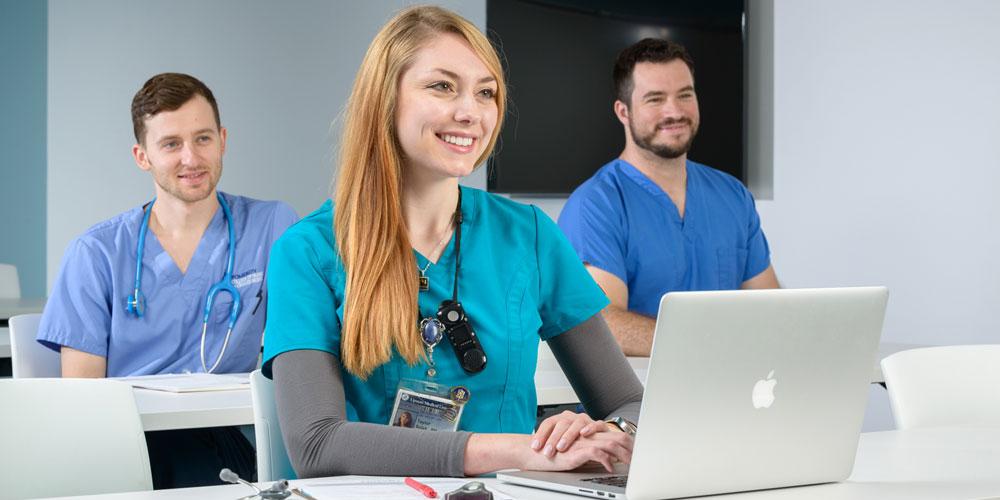 The College of Nursing awards degrees for the following Programs:
Bachelor of Science Program
The bachelor's program gives you the chance to explore the vast field of nursing and discover new areas in which to practice. It is designed to accommodate your work and family life by offering part-time and full-time scheduling options and asynchronous online learning.
This online program focuses on theory and application and serves as a foundation for graduate study. It prepares you to deliver comprehensive nursing care to patients of all ages in a variety of health care settings as direct care providers and leaders. Our courses build on, but do not duplicate, the content taught in basic nursing programs.
BS to Doctor of Nursing Practice Program
The full-time BS to Doctor of Nursing Practice (DNP) Program at Upstate Medical University College of Nursing prepares nurse experts to the highest level of advanced practice expanding the APRN role in leadership, health policy and advocacy, interprofessional practice and information technology.
Post-Master's - Doctor of Nursing Practice Program
The full-time DNP doctoral program at Upstate is specifically for the master's prepared Nurse Practitioner (NP) or Clinical Nurse Specialist (CNS). It is a clinical doctorate designed for those in clinical practice and in areas that support clinical practice, such as administration, organizational management, leadership and policy.
Post-Master's - Advanced Certificate Program
The College of Nursing at SUNY Upstate Medical University is the only college in the Syracuse area exclusively designed to further educate registered nurses (RNs), offering bachelor's, master's, post master's, and continuing education programs.
Master of Science Program*
The master's program does not review basic nursing knowledge or develop basic nursing skills. Rather, it builds on your undergraduate nursing education and focuses on the application of advanced theory and clinical practice skills. The 51-54 credit hour Master of Science in Nursing Program is designed to prepare the baccalaureate registered nurse for advanced nursing practice.
*Note: We Are no longer accepting applications for the Master of Science Program
Accreditation
College of Nursing degree programs at SUNY Upstate Medical University are accredited by the Commission on Collegiate Nursing Education.
Accreditation