Nurse Practitioner Preceptor Program
The Partners in Education Program creates a close working relationship between community nurse practitioner preceptors and SUNY Upstate Medical University College of Nursing.
The purpose of the program is to:
Improve and foster a positive relationship with community preceptors;
Make available preceptor educational programs and resources, and;
Provide 'rewards' as a thank you for a valued service to our College and the community at large.
Preceptors Share Knowledge and Expertise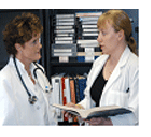 The Partners in Education program provides a mechanism to cooperatively prepare our students to succeed in a challenging and ever-changing health care environment.
Who can be a Partner in Education?
The College of Nursing seeks to partner with experienced nurse practitioners that have a desire to contribute to the education of future community and regional nurse practitioners. If you are interested in becoming a Partner in Education, please contact Dr. Bambi Carkey at carkeyb@upstate.edu.
Being a preceptor partner has many satisfying rewards. Building relationships and changing lives are two very important ones.