On Sept. 27, you'll get an email from Self-Serve with a link to Pledge.  Once you submit your pledge you will receive a confirmation e-mail.
Pledge online between Sept. 27 and Oct. 10 to be included in $100-a-day drawings!

If you prefer to donate using a paper form, download it here. Mail the completed form, with your donation, to the United Way of CNY, 980 James St., Syracuse, NY 13202, Attn: KW Finance Dept.
If you are a leadership donor please mail THIS FORM to: SUNY Upstate Medical University, Office of the President - Attn: Nancy Prott, 750 E. Adams St., Syracuse, NY 13210
How to Pledge through Self Serve
Expand all
Step 1: Select payment option
Select payment option – choose payroll deduction or credit card.
Step 2: Enter pledge amount
This is the total amount you are pledging for the year. Your weekly amount will automatically populate or you can enter your weekly deduction and the total will automatically populate. *Note: If you are a first-time donor or you increase your annual donation by $52, you automatically qualify for the United Way Step Up Challenge  (You will be eligible for $3,000 grand prizes and many other prizes.)
Steps 3-5: Answer questions
Answer questions about donor recognition, combining your gift with a spouse, and the anonymous gift option. You will be asked like to become part of the United Way's Emerging Leaders or Women United programs. Hit "NEXT"
Steps 6-7: Choose your charity(ies)
Choose your charity(ies).  If you know which agency(ies) you want to receive your donation, type in the name(s) and select the amount. If you want to choose from all the 100s of eligible charities, go to "Agencies." There you will find the United Way of CNY (33 agencies); SEFA agencies (100s of nonprofits – local, regional, national and international); and the Upstate Foundation, Alumni and Advocates. Minimum donation of $1 per pay period per agency ($26/year).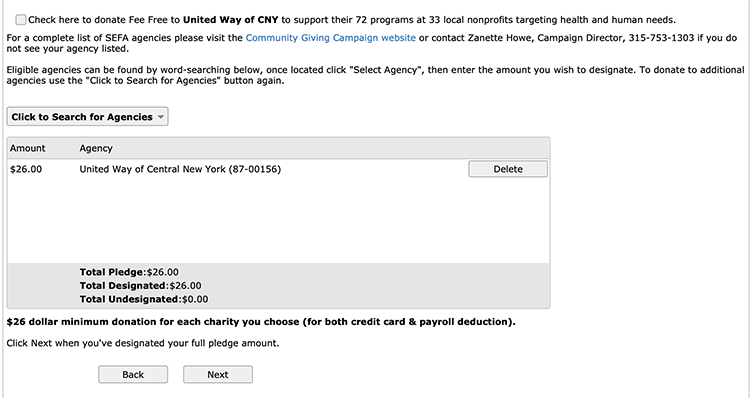 Step 8: Review your pledge information
Review your pledge information. If you are satisfied with your pledge click "submit pledge". If you need to modify, hit "back".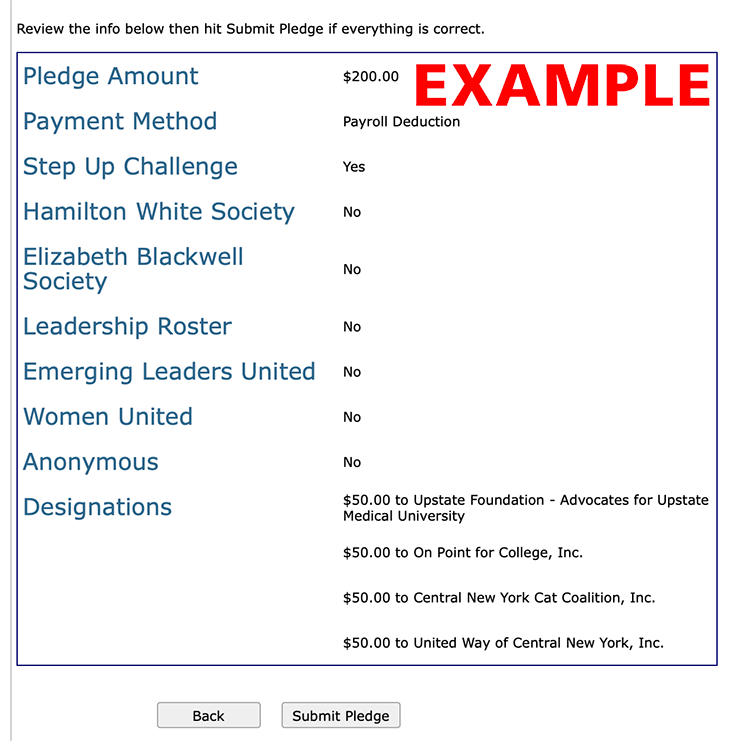 ---
Need help? Call the Help Desk at 315-464-4115