2019 Community Giving Campaign
---
---
Please note: To be more environmental friendly, we will only send you a paper pledge form if you donated in the previous year's campaign and do not e-pledge in the first two weeks (Sept. 23 - Oct. 4) of this year's campaign.
---
A Message from the Campaign Co-Chairs
We are pleased to announce Upstate's 2019 Community Giving Campaign. More than 550 agencies benefit from your support.
The generosity of Upstate's employees has made our campaign one of the most successful in the SUNY system and in Central New York. Last year, Upstate employees raised $548,810. We hope that you will join us in participating in this important initiative and help us reach our goal to increase employee participation. New this year: if you are a first time donor you pledge by Dec. 1 you will have ten opportunities to win $50.
On September 23, you will receive an email from Self-Serve with a link to ePledge. This is an easy way to donate to the campaign and take advantage of the two-week incentive promotion. You may be one of the $100 daily winners!
Once again, Zanette Howe is the campaign director and Linda Veit will handle leadership gifts ($1,000 and up) through the Hamilton White campaign. Those who make a year-long pledge of $2,000 or more are members of the Elizabeth Blackwell Society, named in honor of the 1849 graduate of our College of Medicine and first woman MD. If you have any questions, please contact Zanette at 464-4836 or howez@upstate.edu or Linda Veit at 464-6303 or veitl@upstate.edu. 
We hope you will find it possible to support Upstate's Community Giving Campaign. Your participation, at any level, is essential to our success and the well-being of the thousands in our community and beyond. Together, our gifts will help build a stronger future for our neighbors, families, and friends.
Sincerely,
Community Giving Campaign Co-Chairs,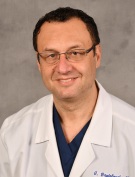 Gennady Bratslavsky, MD
Professor and Chair,
Department of Urology
Mark Schmitt, PhD
Interim Vice President for Research
Upstate Medical University,
Dean, College of Graduate Studies
Professor, Biochemistry & Molecular Biology