We value the differences in student learning and support your success by offering personalized meetings with our staff to discuss a range of academic topics. Our Academic Counseling sessions include best practices of learning theories and can be adapted to fit how you learn best. 
We are available to schedule one-on-one appointments to discuss an individual plan for your success. Meetings can be held in-person, as well as virtually. 
How do I schedule a meeting with someone in Academic Support?
For students in the College of Medicine, please select one of the following options:
Request a meeting using bookings
Please read meeting descriptions carefully and choose appropriately.
When on Campus, visit the COM Educational & Career Success Office: 
Location: Weiskotten Hall, Room 1217 
Hours: 8:00am – 4:00pm or by appointment 
Reach out to a staff member directly: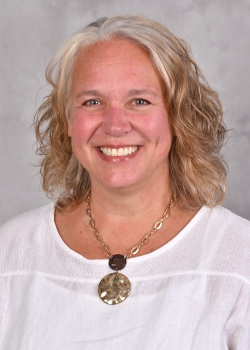 Jennifer Welch, PhD
Director of Transition Success
welchj@upstate.edu

Mary Ann Grandinetta
Director, COM
Educational &
Career Success
grandinm@upstate.edu
315-464-8851
Hannah Bullington
Career Success Specialist
bullingh@upstate.edu
315 464-8260
College of Medicine Tutoring Services
The College of Medicine offers tutoring services to help with the content taught in the basic sciences, clerkships, and is also beneficial at strengthening both study and learning skills.
Peer tutors work one-on-one or in small groups with fellow students offering academic support and expertise in an informal setting. For students experiencing difficulty in their course work, peer tutors can be an important source of individualized help.
Who are the tutors:
The majority of our tutors are fourth year medical students who are also members of Alpha Omega Alpha, the Medical Honor Society. We also welcome volunteer tutors who would like to gain leadership skills and add experience to your CV. Some tutors may also be eligible for academic credit based on the number of hours provided. If you would like to become a volunteer tutor, please contact our office at 315-464-8851 or email grandinm@upstate.edu .
Request a tutor:
An initial meeting takes place first before a tutor is assigned to learn more about your need and to help you create a personal plan of success. To schedule an appointment for a tutor:
Visit MyUpstate: https://bannerweb.upstate.edu
Under Tasks, there is a link to follow for Academic Support Services Requests:
Once a request is submitted, you will be contacted within a few days to make an appointment.
MedSET is the Medical Science Education Transition Course that provides a solid foundation for students to build their medical school career.
This four-week transitional course occurs the summer prior to matriculation. MedSET is designed to introduce students to the rigors of medical school while also giving them a preview of the academic structure and curriculum of the first year. Participants will be introduced to Gross Anatomy, Molecular Biology, Human Genetics, Physiology, and Microscopic Anatomy. Topics are intentionally selected to give students additional time with historically challenging material. In addition, students will be encouraged to experiment with a variety of learning strategies and academic skills designed to help students adjust to the discipline and environment of medical school.
Students in the MedSET course will also learn about campus and academic resources prior to the start of the fall courses and they will gain early exposure to experienced students and key campus personnel.
Expand all
Who should take advantage of this opportunity?
While any student may apply to this course, it will be especially beneficial for students who have been out of school for some time, those coming from non-science backgrounds, students who may have family or competing responsibilities, or who may feel unsure about their preparedness for the intense environment of medical school. Enrollment is limited due to the interactive nature of the course and the specific goals it seeks to meet.
How do I apply?
Students who are interested in applying for MedSET do so by filling out a brief application after their acceptance to SUNY Upstate and submitting it to the Office of Admissions & Financial Aid. All applicants are notified in early May regarding their selection to the Medical Science Education Transition Course.
Questions?
Please contact MaryAnn Grandinetta, Director of Student Success Initiatives, 315-464-8855 or by email: grandinm@upstate.edu.
Additional Details
Students may live on campus Geneva Tower. Students who participate in MedSET and sign a lease for Geneva Tower may be eligible for a discounted summer rate. Students are also eligible to make their own off-campus housing arrangements.
In the early part of each calendar year, a Summer Opportunities Fair is hosted by the Division of Student Affairs. During this event, second- and third-year students host tables in which they highlight summer experiences in which they engaged the previous year. In addition, many offices, like Financial Aid and the Research Office host tables at which students learn about on-campus work study opportunities and research projects in which they can become involved.
The Upstate Medical University Writing Resource Center welcomes writers across campus interested in receiving help with any stage of the writing process including brainstorming, researching, drafting, and revising. While the Writing Resource Center is not an editing service, our goal is to provide writing assistance that allows students and scholars to engage with their work in a thoughtful, collaborative, and reflective way. We hope to create a resourceful space and help a community of writers that participate in various writing practices ultimately improve writing skills.