Mark Caramore, Class of 2013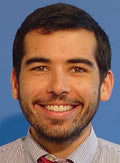 Mark Caramore,
Class of 2013
The clinical years at Binghamton campus offer a unique opportunity to participate in the standard clerkships as well as in a different take on the family medicine rotation.
After selecting our clerkship tracks in 2nd year, we meet the other students in that track, people with whom we will be spending a considerable amount of time throughout the following months. Clerkships vary in length- as short as 1 week for ENT and Ophthalmology and as long as the entire year in the case of family medicine. Depending on your clerkship as well as well as your preceptor, your free time may vary. With the exception of being on call, most workdays allow time for you to study further, read up on interesting cases, or live and enjoy a life outside of your medical education. Binghamton is a short drive from Syracuse so friends who stayed behind are always within reach. There are many local attractions to enjoy, including Minor League Baseball, Binghamton Senators hockey, and SUNY Binghamton athletics.
Perhaps the biggest advantage Binghamton enjoys in comparison to Syracuse is the relationships you are able to cultivate with your preceptors. Because some of the local hospitals do not have residents, we are almost always the first assist in operations, standing shoulder to shoulder with the attending physicians as they perform their craft. There is no resident, fellow, or intern standing between us or pawning us off to do busy work. That's not to say you wont be busy-because you will. The difference is that you are able to walk away feeling like you actively took part in the care of patients as a peer of your preceptor, which is a very empowering and gratifying experience.