Research Program - Hematological Malignancies
Program mission
To promote research collaboration in understanding the molecular pathogenesis of blood cancers in order to develop more effective and less toxic therapies for blood cancers.
Program focus
The program will focus on blood cancers- leukemia, lymphoma and myeloma. This program will integrate basic, translational and clinical research activities in both adult and pediatric blood cancers. The program will bring together basic and clinical scientists with a goal of advancing our understanding of the molecular pathogenesis and treatment of leukemia, lymphoma and myeloma. The specific goals of the program are to:
Understand the mechanisms by which mutations and/or aberrant activations of certain genes/pathways lead to leukemia, lymphoma and myeloma.
Identify molecular targets/biomarkers for new drug development.
Develop more effective and less toxic therapeutics for leukemia/lymphoma/myeloma.
Develop accurate cell culture and animal models of leukemia/lymphoma/myeloma and test novel therapeutic strategies using these preclinical models.
Test promising experimental therapies for blood cancers in Phase I/II clinical trials.
Educate/train students and fellows in the area of hematologic malignancies and support their career development.
Co-Leaders
Golam Mohi, PhD
Pharmacology
mohim@upstate.edu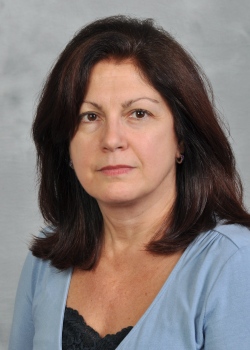 Teresa Gentile, MD, PhD
Hematology/Oncology
gentilet@upstate.edu