High Dose Rate (HDR) Brachytherapy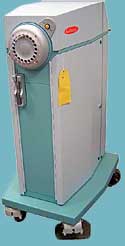 High Dose Rate (HDR) Brachytherapy is a very specialized form of radiation treatment that involves the temporary placement of a tiny radioactive source (Iridium192), into the center of a tumor. Localized doses of radiation are inserted temporarily, delivering the radiation quickly to the tumor and limiting the dose to nearby organs. By varying the position of the radiation source, the dose can be neatly sculpted to conform to the shape of the target.
Upstate offers a robust HDR brachytherapy program that provides comprehensive imaging through C-arm fluoroscopy or CT simulation, and treatment planning and delivery using the Varian iX afterloader. Common sites that are often treated using HDR are lung, head and neck, extremities for sarcoma, gynecological cancers, prostate and breast using the MammoSite and Contura® procedures.
This procedure is most often performed on an out patient basis and usually involves 3-10 treatments over the course of several days. After treatment, the radiation source is removed from the patient and the patient is not radioactive.