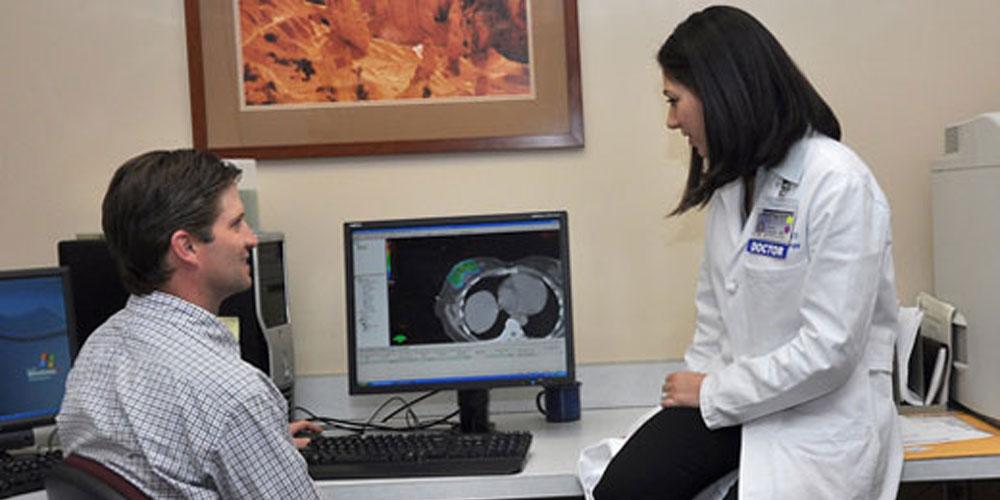 Expand all
First Visit
Welcome to the Department of Radiation Oncology. We would like to take this opportunity to provide you with some information about what you can expect during your first visit. Please allow at least 1½ hours for your first appointment, which is usually a consultation. You will meet with a physician and other members of the Radiation Oncology team to discuss the best treatment options available for you and determine the recommended course of treatment. For your convenience, we will request radiology and laboratory results and other information from your referring physician prior to your visit. This information will be reviewed by your radiation oncologist before you arrive.
In order to serve you better, please bring the following information with you on your first visit:
Download the Medical History Form. Please complete the form and bring it with you on the day of your appointment
Insurance cards
Employer's name, address and phone number, if you are covered under your employer's insurance program
Advance Directives ("living will") if you have one
Referring physician's name, address and phone number
List of medications you currently take (including over-the-counter medicines)
Parking ticket for validation
We encourage you to bring a family member or friend with you to help listen and take notes during your appointment. And if you need translation services or interpretation for the hearing impaired, just let the appointment scheduling staff know when you call. We'll be happy to accommodate you.
We hope this information is helpful in preparing for your visit. Each member of the department is committed to providing you with the highest quality of medical care in a supportive environment to help you through your treatment experience.
CT Simulation
Computed Tomography (CT) Simulation is the first step in preparing for radiation treatments. Your doctor will use this special CT scan to plan your radiation treatments. A radiation therapist along with your doctor and sometimes a nurse will be with you for the scan. Your doctor may want you to receive IV contrast (dye) so that certain parts of the body can be seen well on the scan. A special positioning device may be made for you. The device is used to help you hold still during the scan and stay in the same position for each treatment. The CT scan is then performed in the treatment position, using the device. When the scan is finished, the therapists will place semi-permanent marks on your skin to help reposition you for treatment. Do not wash off these marks. After your CT, you will be given instructions about when to return for your first treatment.
Positioning Device
A positioning device helps you hold still during your treatments and may be in the form of a mask or mold. The mask fits over your head so that your head rests in the exact same position for every treatment. You can breathe through the mask easily. The mask is used when radiation is directed to the head and neck area. If you are being treated in another area of your body your chest or pelvis for example you may be fitted for a mold that is placed on the treatment table. You simply lie in the mold for each treatment session this holds your body in the same position each time. It is important that you receive your radiation in the same spot with each treatment. Your radiation oncologist will decide if a mask or mold is necessary for your specific treatment.
Treatment Planning
Your radiation oncologist along with other members of the treatment team will develop a unique treatment plan just for you. Using sophisticated treatment planning computers along with your recent CT Simulation images and previous medical tests, they will design the best treatment plan for you.
Treatment Frequency
Depending on the location and stage of your tumor, your radiation oncologist may schedule anywhere from one to eight weeks of radiation therapy. Most often your therapy will be scheduled on an out-patient basis, Monday through Friday. Occasionally the radiation oncologist will prescribe treatment more than once a day with a certain number of hours separating treatments. It is important that you do not miss or skip any of your treatments unless your doctor approves.
During Treatment
Most patients receive their treatments through the method called "external beam radiation". The machine that delivers the radiation is called a "linear accelerator". This treatment is given by radiation therapists who are part of your treatment team. As you lie on the table a radiation therapist will make sure you are in the proper treatment position. If an immobilization device was made during CT Simulation, it will be used during every treatment to make sure that you are in the exact same position every day. Once you are positioned correctly, the therapist will leave the room and go to the control area where they will watch you on a television monitor while they deliver the therapy. There is an intercom system so that you can talk to the therapist if you have any concerns.
The radiation therapist may move the treatment machine and treatment table to target the radiation beam to the exact treatment area. The machine makes slight noises during treatment and this is completely normal. You won't feel or see anything while receiving your treatment. With the exception of Stereotactic Body Radiation Therapy, the whole process, from entering the treatment room until you have finished your treatment, usually takes 15-20 minutes.
Weekly Doctor Visits
During radiation therapy treatments, you will see your radiation oncologist and nurse at least weekly to follow your progress, evaluate whether you are having any side effects and discuss their management. This is a good opportunity to discuss any concerns or questions with members of your treatment team.
Daily Activities
It is best to discuss this with your doctor however, people generally find they are able to do light housework or exercise throughout their weeks of radiation therapy.
Side Effects
Side effects occur mainly in the area being treated by radiation. For example, a patient being treated for breast cancer may experience some skin irritation in the breast area while a patient with cancer in the mouth may have soreness when swallowing. These side effects are usually temporary and can be treated by your doctor. Side effects typically begin by the second or third week of treatment and they may last for several weeks after you have finished your therapy. Your radiation oncologist and nurse are the best people to advise you about the side effects you may experience. Talk with them about any side effects you may be having. They can give you information about how to manage side effects and may prescribe medicines or changes in your diet to make you feel more comfortable.
After Treatment
When you have completed radiation therapy, follow-up appointments will be scheduled so that your radiation oncologist can monitor your health status. The first follow-up appointment is usually one month after your last treatment. As time goes by, the number of times you need to visit your radiation oncologist will decrease.