Slow Cooker Vegetarian Chili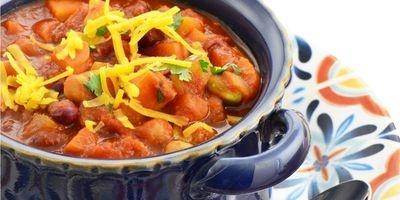 Prep Time: 10 mins
Cook Time: 5 hrs
Total Time: 5 hrs 10 mins
Servings: 4, 1 cup servings
Ingredients
1 cup lentils, raw
15-ounce chili with beans, canned
15-ounce white beans, canned
15-ounce black beans, canned
14 1/2-ounce diced tomatoes, canned
8-ounce tomato sauce
2 cup vegetable broth
6 tsp chili powder
1 packet chili seasoning
1/2 tbsp basil, dried
1/8 tsp salt
1/8 tsp black pepper, ground
1 tsp garlic salt
1 medium bay leaf
Toppings
1/8 cup sour cream
1-ounce cheddar cheese
Instructions
Add all chili ingredients to a slow-cooker, and stir until well combined.
Cook on high for 4-5 hours or on low for 8 hours.
Remove the bay leaf before serving. Top with sour cream and shredded cheese as desired. 

Tip: Don't have a slow cooker? Follow this recipe and cook over medium heat for 1 ½ to 2 hours.
Nutrition: Calories: 452 kcal; Carbohydrates: 69 g; Protein: 27 g; Fiber: 18 g