5 Ingredient Peanut Butter Energy Bites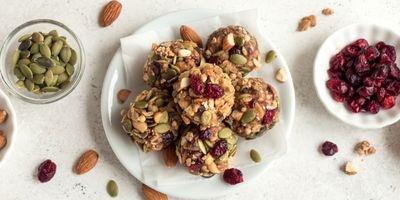 Prep Time: 10 Minutes
Total Time: 10 Minutes
Yield: 12 Bites
Serving Size: 1 Bite
Ingredients
2/3 cup creamy peanut butter
1/2 cup semi-sweet chocolate chips
1 cup old fashioned oats
1/2 cup ground flax seeds
2 tablespoons honey
Instructions
Combine all 5 ingredients in a medium bowl. Stir to combine. Place in the refrigerator for 15-30 minutes, so they are easier to roll.
Roll into 12 bites and store in the fridge for up to a week.
Nutrition Per Bite:
Calories:
200;
Carbohydrates:
16 gm;
Fiber:
4 gm;
Protein:
6 gm;
Fat:
13 g;
Sodium:
69 mg
Additional Add-Ins
Dried fruit: Cranberries, blueberries, pineapple, or raisins.
Nuts: Pistachios, cashews, walnuts, or almond slices.
Swap It
Instead of semi-sweet chocolate, use dark chocolate chips, white chocolate chips, or cocoa nibs.
Instead of honey, use agave syrup or maple syrup.