Peanut Butter Banana and Oat Smoothie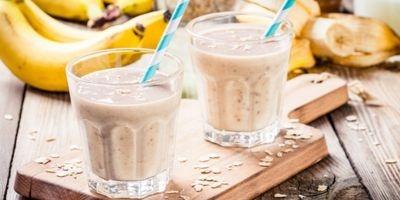 Ingredients
1/4 cup rolled oats
1/4 cup water
1 cup low-fat milk or milk alternative
1 large banana
1-2 tbsp nut butter of choice
2 tsp honey
1/4 tsp nutmeg
2 ice cubes (optional)*
Instructions
In a microwave-safe bowl, combine oatmeal and water. Microwave for 1 minute or until oats have absorbed the water. Set aside to cool.
In a blender, combine oatmeal, milk, banana, peanut butter, honey, nutmeg, and ice cubes. Blend until smooth.
*If using frozen bananas, omit the ice cubes.

Nutrition: Calories: 534; Fat: 22 g; Carbohydrates: 74 gm; Fiber: 7 gm; Protein: 17 gm.