Easy Korean Ground Beef Bowl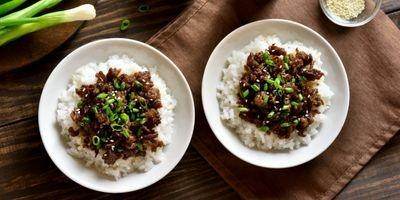 Yield: 4 bowls

Ingredients
1-pound lean ground beef
5 cloves garlic, crushed
1 tbsp freshly grated ginger
2 tsp toasted sesame oil
1/2 cup reduced-sodium soy sauce
1/3 cup light brown sugar
1/4 tsp crushed red pepper
6 green onions, chopped, divided
4 cups hot cooked brown rice
1 tbsp toasted sesame seeds
Directions
Step 1: Heat a large skillet over medium-high heat. Add beef and cook, stirring and crumbling into small pieces until browned, 5 to 7 minutes. Drain excess grease.
Step 2: Add garlic, ginger, and sesame oil, stirring until fragrant, about 2 minutes. Stir in soy sauce, brown sugar, and red pepper. Cook until some of the sauce absorbs into the beef, about 7 minutes. Add 1/2 of the chopped green onions.
Step 3: Serve beef over hot cooked rice; garnished with sesame seeds and remaining green onions.
Nutrition Per Serving:
Calories:
574;
Protein:
28.8 g;
Carbohydrates:
70.3 g;
Fat:
19.1 g;
Cholesterol:
74.3 mg;
Sodium:
1142.2 mg.