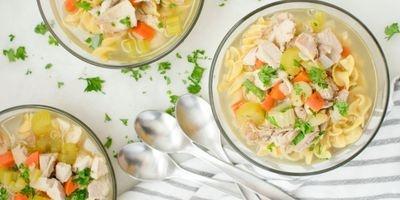 Yield: 8 Servings

Ingredients:
3 cups shredded chicken
1 Tbsp olive oil
1 onion
1 large carrot, sliced
1 large stalk of celery, sliced
6 cups chicken broth
2 cups water
1/2 cup egg noodles
2 Tbsp chopped parsley (optional)
Salt and pepper to taste
Directions:
In a large pot, heat olive oil over medium heat before adding onion, celery, and carrots to oil, cooking until vegetables (8 to 10 minutes). Add chicken broth and water stirring to combine. Bring to a boil, reduce the heat, and cover. Simmer for 15-20 minutes, stirring occasionally.


Add egg noodles and cook for an additional 5 minutes. Add shredded chicken and cook until chicken is warmed through, about 5 minutes—season with salt and pepper to taste.

Nutrition Per Serving: 120 Calories, 5 gm Carbohydrates, 1 gm Fiber, and 16 gm Protein.