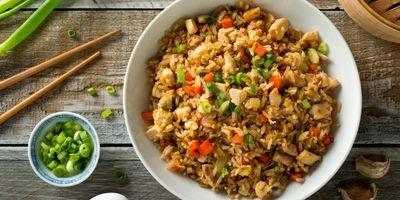 Servings:
3 servings
Prep:
10 minutes
Cook:
15 minutes
Ready in:
25 minutes
Ingredients

3 cups cooked white rice
3/4-pound boneless skinless chicken breasts, diced into 3/4-inch pieces
1 Tbsp toasted sesame oil, divided
1 Tbsp canola oil, divided
1 1/3 cups frozen peas and carrots blend
3 green onions chopped
2 cloves garlic, minced
2 large eggs
3 Tbsp low-sodium soy sauce
Salt and freshly ground black pepper
Instructions
In a large non-stick wok or skillet, heat 1 1/2 tsp sesame oil and 1 1/2 tsp of the canola oil over medium-high heat. Once hot, add chicken pieces, season lightly with salt and pepper, and sauté until cooked for about 5 - 6 minutes. Transfer chicken to a plate and set aside.


Return skillet to medium-high heat, add remaining 1 1/2 tsp sesame oil and 1 1/2 tsp canola oil. Add peas and carrots blend and green onions and sauté 1 minute, then add garlic and sauté 1 minute longer. Push veggies to the edges of the pan, add eggs in the center and scramble.


Return chicken to skillet along with rice. Add in soy sauce and season with salt and pepper to taste and serve.

Nutrition Per Serving: 518 calories, 54 gm carbohydrate, 6 gm fiber, 36 gm protein.