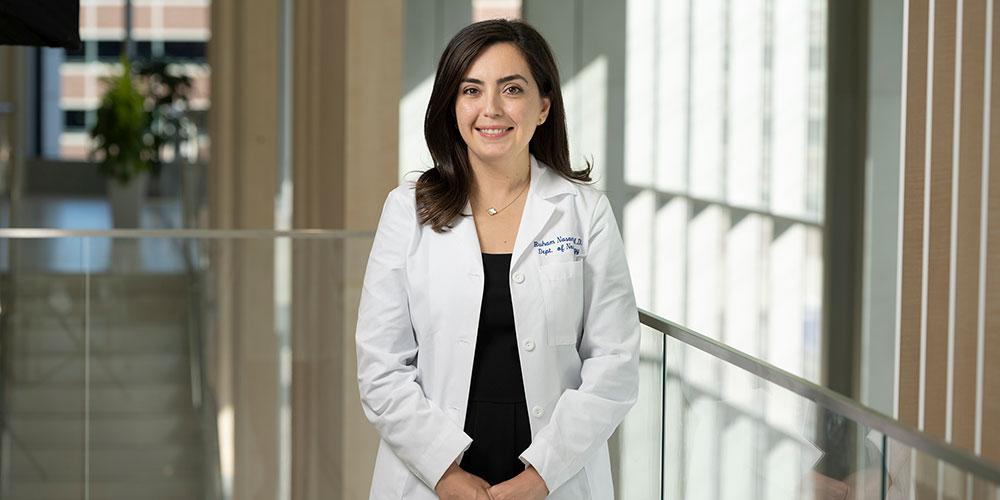 Brain Tumor & Neuro Oncology Program
Neuro Oncology Program
Upstate Cancer Center
750 East Adams Street
Syracuse, NY 13210
Map & directions
Phone:
315 464-3510
Name:
Ruham Alshiekh Nasany, MD
The Neuro-Oncology Program provides a supportive and advanced environment for patients with cancer that affects the nervous system, including the brain, spinal cord and nerves. We treat primary tumors or ones caused by other types of cancer, such as breast cancer or lung cancer.
The team also helps with other neurological conditions that are related to cancer or cancer treatment.
Specialized care is important. It is the only program in Central New York led by a fellowship-trained neuro-oncologist. The team caring for patients includes members of the departments of Neurosurgery, Neuroradiology, Neuropathology, Radiation Oncology, Medical Oncology and Pediatric Hematology-Oncology.
Every person's cancer is different. A hallmark of our program is to look at the genetics of the tumor whenever possible and develop for the treatment plan best able to attack the tumor. Treatment is always personalized, and the team works together to develop the approach for each patient.