Appointments and Referrals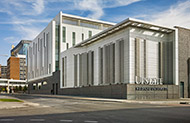 To make an appointment
Ask your doctor to place a referral to the Genetics Program or
Contact the Genetics Program office directly at 315 464-3510
Referring physicians
Upstate providers may place a referral through Epic
Outside providers please fax referrals to: 315 464-3517
Returning patients
Returning patients or their physicians may contact the Genetics Program to arrange for follow-up appointments. You will be provided with an appointment letter with the specific location for your appointment within the Cancer Center.
Telehealth appointments are available.
Contact the Upstate Cancer Center Genetics Program for information about telehealth visits.
Visitor Parking Information
Valet parking is provided in the Hospital circle Monday through Friday 5:30 AM to 8:00 PM to accept incoming cars. Valet service is available until 9 PM to retrieve parked cars. The cost of the service is $5.00 plus daily parking rates. There is no valet service on the following holidays: New Years Day, Martin Luther King Day, Memorial Day, 4th of July, Labor Day, Columbus Day, Thanksgiving, and Christmas Day.