Receive Cancer Care Magazine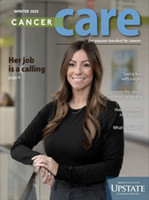 Subscribe to Cancer Care, a quarterly publication dedicated to cancer patients, families and friends, caregivers, researchers, donors and everyone else touched by cancer.
Read past issues of Cancer Care magazine.
Your privacy is important to us!
Upstate Medical University will not sell, rent or give any of your personal information to any company or organization not affiliated with Upstate Medical University. Protecting your information is a top priority and responsibility of ours.