Tickets to Syracuse Events
PLEASE NOTE
Upstate Students and CAB Members may purchase any tickets at the discounted rate. Please also note that the student discount applies to matriculated full-time students only. Part time students must pay the general rate.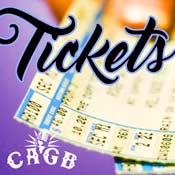 Purchasing Tickets
Tickets may be purchased
at the CAB Information Center, Lobby Level, CAB.

Tickets may be purchased:
All CAB building hours!

Cash, check (made payable
to Student Faculty Association)
and credit card (VISA, MasterCard and
Discover card) are accepted
as forms of payment.

For information on
all ticket offers, contact the
CAB Info Center
at 315 464-8860
or by email at:
campact@upstate.edu
Tickets Now On Sale

Famous Artists Broadway Theater Series: Touring Broadway shows in Syracuse! 
Season tickets on sale now!
Individual show tickets (both orchestra or balcony level) on sale Monday, September 13, 2021.
Shows include:
10/15 - Charlie and the Chocolate Factory
12/10 - Waitress
3/18 - Hamilton
4/29 - CATS
---------------------------------------------
4/7 - Riverdance - Very limited tickets available, NOT a part of the season ticket
Contact the CAB Information Center for availability and pricing for season or individual show tickets. Visit the Broadway In Syracuse website for additional details about the upcoming shows.

Regal Cinema Premiere Super Saver Tickets: Enjoy the movies? Buy your tickets from us and enjoy some savings! Tickets are $9.00 for Upstate Students and CAB Members and $10.00 General Rate and are valid anytime, any show, seven days a week. Yes, even on the opening night of blockbuster films! Just another way the CAGB and Office of Campus Activities are trying to save you some money and offer more benefits to our students and members!

SU Football: Individual game tickets for all seven home games are on sale . Tickets are located in Section 334 of the Dome and ticket price is dependent on the opponent.  All tickets are now electronic. When purchased, tickets will be transferred to you by email. Contact the CAB Information Center for ticket availability, pricing, and location.

Syracuse Stage: If you haven't been to a show at Syracuse Stage you are missing out!  Season and Individual show tickets are now on sale for the 2021-2022 season. 
Shows include:
10/16 - Eureka Day
11/20 - Matilda the Musical
1/22 - Yoga Play
2/26 - Somewhere Over the Border
4/16 - The Play That Goes Wrong
6/11 - salt/city/blues
Individual show tickets are $27 for Upstate Students and CAB Members and $30 General Rate for all shows with the exception of Matilda the Musical.  Matilda the Musical tickets are $32 for Upstate Students and CAB Members and $35 General Rate.  Additional information on upcoming shows can be found on the Syracuse Stage website.

Stay tuned for additional tickets offers!