All matriculated Upstate Medical University students, visiting students and staff, employees, alumni, retirees, and immediate families (spouses/domestic partners and children 19 years of age and younger) are eligible to use the CAB.
Who Can Use the CAB?
For information on CAB Membership, contact the Office of Campus Activities at 315 464-5618 or by email at:
campact@upstate.edu
An individual membership to the CAB is $130 a year. A family membership is $165 a year. A family membership is defined as spouse and dependent children 19 years of age and younger, and any domestic partners who meet NY State's domestic partner guidelines. All individuals wishing to use the facilities who will be at Upstate for less than a year may take advantage of the $25 monthly membership.
Employees, alumni, and visiting students and staff may pay the appropriate membership fee at the CAB Information Center, lobby of the CAB all hours that the building is open.

Employee CAB Members are also entitled to discounts on event, ticket and travel program purchases.  Monthly memberships do not qualify for discounts.

There are no refunds for employee CAB Membership fees, including separation from Upstate Medical University.
All matriculated students receive full access to the CAB Recreational Facility with no additional fees. Including discounts on event, ticket, and travel program purchases, matriculated full-time students may pay $35 a year to receive a family membership.
Matriculated part-time students should check with the staff in the Campus Activities Office, Suite 202, CAB, to calculate the family membership fee.
Complimentary Day Pass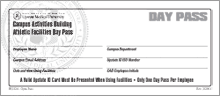 Limit one DAY PASS per Upstate employee.
Come try out the recreational facilities in the CAB before you join! Have a great complimentary workout at the CAB with the attached Day Pass.
DOWNLOAD YOUR PASS
Bring the pass and your Upstate ID card and see what we have to offer!