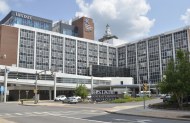 Clark Burn Treatment Center
Upstate University Hospital
Map & directions
Surgical Specialties Suite RM 222
750 East Adams Street, Syracuse, NY 13210
Phone:
315 464-1800
Fax:
315 464-2607
---
The Clark Burn Center is a six-bed adult Intensive Care Unit. Pediatric burn patients are cared for at the Golisano Children's hospital by both burn and pediatrics teams. The center is a regional referral center providing state-of-the-art burn care.
The Center serves over 37 counties from as far north as the St. Lawrence River to northern Pennsylvania, and from Rochester to Albany, including the northern areas of Pennsylvania and parts of Canada. The Center cares for both adult and pediatric patients in the inpatient and outpatient settings.
Our Mission
Our mission is to provide consistent and comprehensive care for the burn patient at the highest possible level of excellence.
We will serve as a resource center for both referring facilities and the community, providing outreach programs, continuing education, and ongoing research to maintain state-of-the-art care.
The Burn Team
The burn team includes:
Attending Physicians
Resident Physicians
Physician Extenders
Nurses
Aides
Burn RN
Child Life
Physical Therapist
Occupational Therapist
Respiratory Therapist
Social Workers
Case Managers
Dieticians
Spiritual Care
The Clark Burn Center also strives to provide education to the public and health care providers.