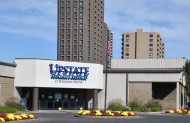 Numann Center for Breast, Endocrine & Plastic Surgery
Upstate Specialty Services at Harrison Center
Map & directions
Suite D
550 Harrison Street, Syracuse, NY 13202
Phone:
315 464-8224
Fax:
315 464-2187
---
Contact Us
We welcome self-referrals for most conditions, if a referral is needed we will let you know and assist.
---
Upstate's Breast Surgery team provides comprehensive care to patients with breast cancer as well as benign (non cancerous) breast disease and other breast conditions. Our highly-skilled, fellowship trained, surgeons provide each patient with the most personalized plan for the very best outcome. The team is supported by the most advanced technology and treatment options available, like our innovative Intraoperative Radiation Therapy (IORT) for early stage breast cancer, as well as access to clinical trials and research.
Beyond surgical treatment, this team provides a seamless transition of care to many other services a patient may need, related to their own personal situation, such as immediate access to breast imaging. This includes services such as high risk screening, genetic counseling to survivorship, and support groups.
As members of the region's only academic medical university, our physicians have both academic and clinical appointments at Upstate Medical University. Our doctors train the doctors of tomorrow. And when our surgeons aren't in the operating room, or the office seeing patients, they're conducting research related to the diseases they treat and the treatments they provide.