Breastfeeding (Lactation) Medicine Program
Please Note: The COVID-19 situation continues to evolve rapidly. We want to reassure you that the health and safety of our patients, staff, and community remains our highest priority. During this time, we are here to support you to meet your breastfeeding goals.
Out of caution, we are currently limiting in-person visits to our office. We will continue to offer in-person appointments when medically necessary, but for less urgent concerns, we are offering  telehealth appointments. Learn more about Telehealth.
As always, please call our office at 315-464-2192 with any questions or concerns about breastfeeding.
— Jayne R. Charlamb, MD, IBCLC
— Michele Dwyer, RN, IBCLC
Our Breastfeeding Medicine Clinic offers evaluation and support for families coping with breastfeeding difficulties including:
Difficult or painful latch
Tender nipples or skin trauma associated with latching
Breast pain
Plugged ducts
Breast engorgement
Breast lumps
Milk supply concerns: low or abundant volumes
Breast refusal from infant
Re-latching infant to breast after separation from mother
Breast infection and mastitis
Slow or low infant weight gain
Lactation induction
Questions regarding medications or medical procedures while breastfeeding
Complex, individual breastfeeding issues
Our goal is to support each family in meeting its own goals for human milk feeding.
Our outpatient clinic is located at 550 Harrison Center, Suite D, in Syracuse.
For phone consultation or to schedule an appointment at the Breastfeeding Medicine Program, call 315-464-2192.
Breastfeeding Medicine Providers
Jayne R. Charlamb, MD, FACP, FABM, IBCLC
Dr. Charlamb is the Director of the Division of Breast Health and Breastfeeding Medicine at SUNY Upstate and is a Fellow of both the Academy of Breastfeeding Medicine the American College of Physicians. She is Board Certified in Internal Medicine and also a Board Certified Lactation Consultant (IBCLC). Dr. Charlamb believes strongly in the importance of the breastfeeding relationship and passionately supports families to reach their own breastfeeding goals.
Michele Dwyer, RN, IBCLC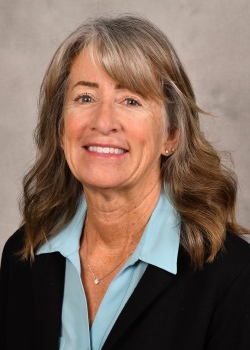 Michele Dwyer, RN,
IBCLC
Michele received her nursing degree at St. Joseph's Hospital College of Nursing in Syracuse, NY. She comes to the Breastfeeding Medicine Program with over 25 years of nursing experience in Maternal/Child healthcare. Michele obtained her International Board Certified Lactation Consultant (IBCLC) license in 2011, and her focus now is the clinical management of breastfeeding and lactation. Michele believes that a mother's bond with her baby is a sacred one, and her practice is delivered with compassion, knowledge, and guidance to nurture that bond