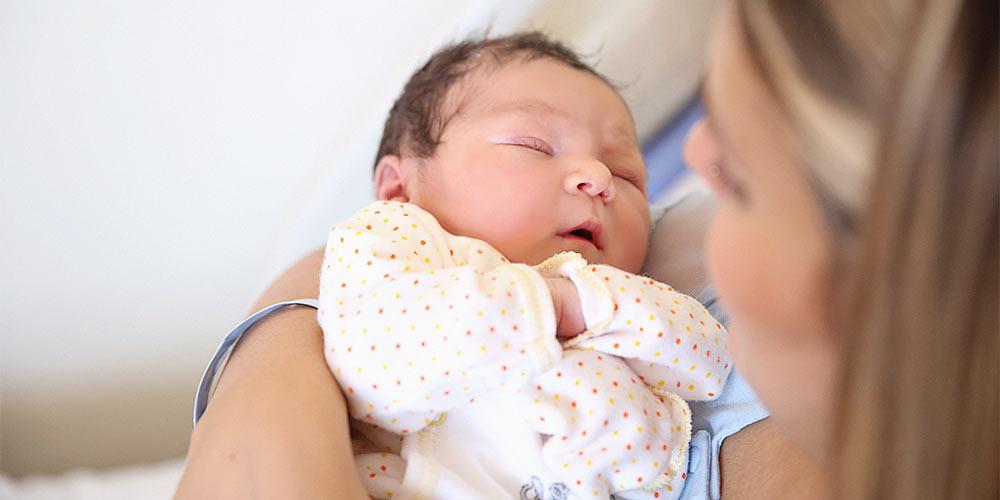 Shortly after you've delivered, you and your baby will be moved to Upstate's newly remodeled post-partum care unit. You'll be in a large, private suite with a spacious bathroom and a sleeper sofa for an adult family member or loved one to stay with you and your baby. Upstate's Family Birth Center practices couplet care which means the mother and baby remain together, as a pair, while in the hospital.
Couplet Care
Studies have shown that babies, in their mother's presence, cry less, have more stable vital signs and have greater breast feeding success. Couplet care allows staff to have an enhanced teaching opportunity with mothers and families. Couplet care promotes family bonding and allows for first hand awareness of the newborns' patterns.
Benefits of Couplet Care:
One nurse cares for mother and baby
Baby remains at mother's bedside
Personalized care provides a better education for parents
Mom is more prepared to go home with confidence
Maternal-infant bonding is promoted
Improved medical staff and nursing communication
Improved success of breastfeeding
Mother has piece of mind with baby at bedside
No special moments are missed
Improved family satisfaction
Breastfeeding (Lactation) Medicine Program
The staff at Upstate's Family Birth Center understand the importance of breastfeeding. For babies, breastfeeding benefits include lowering the risk of asthma, allergies and SIDS to providing important antibodies that prevent illness and infections.
For mothers, breastfeeding releases the hormone oxytocin, which is beneficial in uterine health and lowers the risk of some diseases including breast cancer, ovarian cancer and type 2 diabetes. Breastfeeding is strongly recommended by the American Academy of Pediatrics and the American College of Obstetricians and Gynecologists.
In addition to offering breast feeding classes, Upstate has specially trained nurses who are also certified lactation counselors. For mother's experiencing challenges, Upstate also offers Lactation (Breastfeeding) Medicine Services.