Susannah Loiselle Gallery
Artist's Bio
Photography, to me, is the most immediate way to respond to something that moves me. I carry a camera with me at all times. Living in rural Locke, NY, I often see beauty or other noteworthy subjects for my lens. I pull off on the side of the road, get out, and take different views of whatever it is.

Once, I saw a computer monitor alone out in the middle of a farm field, but it was too far away to shoot. I thought about it for a long time. It could become a pen and ink drawing at some point. I was moved by play equipment, a tire swing, and an old-fashioned merry-go-round covered by snow, unused in winter, but waiting. Not long ago I was paused in traffic and noticed a county truck ahead of me filled with various road work tools stacked to the side. In the bowl of the shovel was a dead rabbit. This became my photograph, Caught in Traffic, because we both were.

The other part of the photographs is meditating on why I was moved by the subject. What made me want to take a picture? Mindfulness in photography is noticing the subject, and also pondering what it means.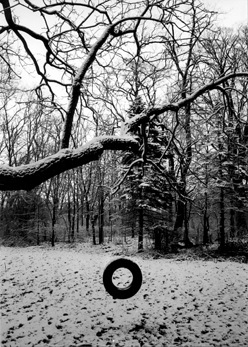 Tireswing (Vol. 9)
Merry-Go-Round (Vol. 13)
Predator (Vol. 12)
From a Crannied Floor (Vol. 9)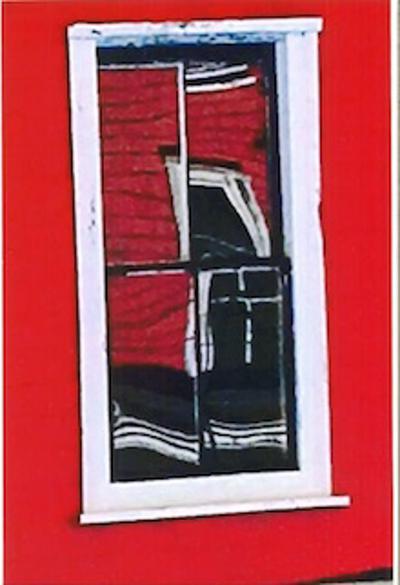 Close-Up of Window, Lunenberg, Nova
Scotia (Vol. 18)
Caught in Traffic (Vol. 13)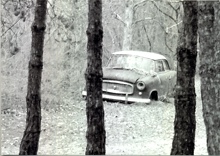 Brokedown (Vol. 11)
Shoreline Snowcones (Vol. 9)
Wake Up Recycling Building (Vol. 11)
Winter Dawn (Vol. 15)