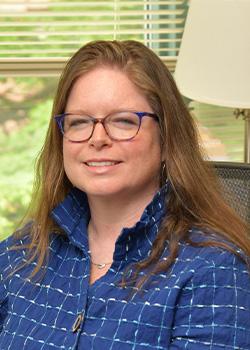 Sarah C. Reckess, J.D. is an Assistant Professor of Bioethics and Humanities at Upstate Medical University. She earned her Juris Doctorate at Syracuse University College of Law, with a concentration in Family Law and Social Policy, and is licensed to practice law in New York State.  Ms. Reckess also holds a Master's degree in Literature and Environment from the University of Nevada - Reno and a Bachelor's degree in American Studies from Mount Holyoke College.
Ms. Reckess teaches the Health Systems Science: Law and Advocacy course and the Clinical Bioethics course in the College of Medicine. She also teaches Responsible Conduct of Scientific Research in the College of Graduate Studies.
Ms. Reckess works at the intersection of policy, law and bioethics. Prior to joining the Center for Bioethics and Humanities, she spent 13 years working for a criminal justice reform non-profit agency where she addressed the social determinants of health for justice-involved populations. She has a special interest in trauma-informed medical care, health care disparties, medical ethics and research guidelines for working with vulnerable populations, and the rights of patients with mental health issues and substance use disorders.
Ms. Reckess serves as a member of the Ethics Consultation Service. She can be reached at ReckessS@upstate.edu or at 315 464-8454.