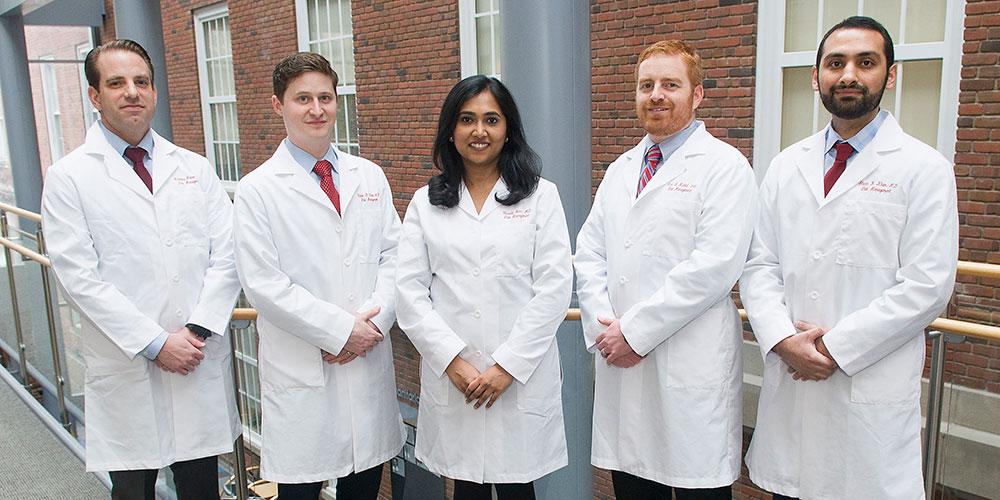 Pain Management Fellowship
Our Mission Statement:
The Comprehensive Pain Management Center is dedicated to providing comprehensive pain management services. We offer the most advanced and compassionate personalized care to help improve our patient's quality of life, relieve pain, restore function and renew hope. All of this is accomplished through education, standards, research and support. We value our patients and are committed to being the best.
The Upstate Comprehensive Pain Management Center of the Department of Anesthesiology, SUNY HSC at Syracuse is one of the largest and oldest established services of its type in the upstate area. The chronic pain division was established in 1977 and was expanded in its scope and service to include the acute pain division in 1988. As the setting of the Center is a University Hospital, staff consists of Attending Anesthesiologists with certification in pain management, Fellows in pain management, residents in anesthesiology, Nurse Practitioners in both Chronic and Acute pain, and support staff. The Center provides patient care in six settings at the present time.
The Center utilizes a number of techniques not previously available for the diagnosis and therapy of acute and chronic pain. The Upstate Comprehensive Pain Management Center is the only totally comprehensive service in the Central New York area, and is one of a few in the country to offer integrated services for patients with both acute and chronic pain syndromes.
The Upstate Comprehensive Pain Management Center provides evaluation and treatment for patients who suffer from chronic intractable pain, which has not responded to conventional therapy. The Center also provides treatment for specific pain syndromes. Chronic pain is a long-term problem requiring the use of a number of techniques to establish the diagnosis and plan appropriate treatment directed toward:
Prolonged, tolerable pain relief
Reduction of dependency on medications, particularly narcotics
Enabling the patient to lead a more productive and active life
Patients are accepted by physician referral only. Patients range from inner-city underserved populations to the suburban middle/upper class. Some of the common syndromes seen at the Upstate Comprehensive Pain Management Center include chronic low back pain syndromes, sympathetically medicated pain syndromes, e.g., CRPS, post-herpetic and diabetic neuralgias, post-operative neuralgias, deafferentation pain syndromes e.g., phantom limb pain, cancer pain and various myofascial pain syndromes. A variety of invasive and non-invasive modalities are utilized for therapy including pharmacological intervention, drug detoxification, various nerve blocks, neuro stimulators (spinal cord and peripheral nerve), cryoanalgiesia and radiotherapy and intrathecal and epidural narcotic infusion devices.
The Acute Pain Service provides for pain management for patients in the hospital who are experiencing acute pain resulting from trauma, surgery, or acute exacerbation of pain from a chronic syndrome such as cancer, vaso-occlusive disease, chronic neuropathic states, etc. The Acute Pain Service also provides multiple modalities for treatment of these occurrences including PCA, neuraxial and peripheral nerve blocks, and catheter placement, along with pharmacological manipulation. Due to the integration of the acute and chronic services, it is routine to transfer a patient to the chronic service once the acute episode is concluded. This provides a smooth transition and continuity of care for these patients.