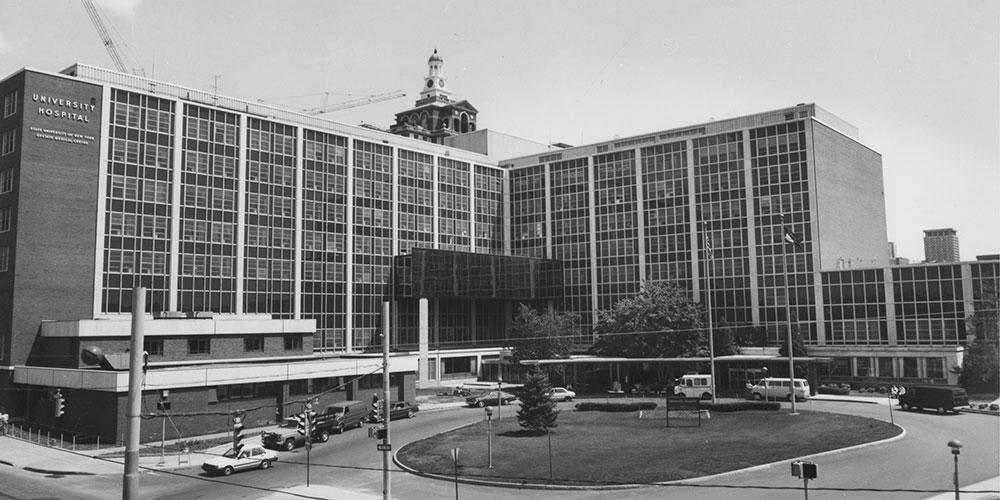 About the Department of Anesthesiology
Anesthesiology
Upstate University Hospital
Room 4143
750 East Adams Street
Syracuse, NY 13210
Google Maps & Directions
Phone:
315 464-4720
Fax:
315 464-4905
Kim Hare,
Sr. Administrative Assistant
Department of Anesthesiology
750 E. Adams St, Room 4736
Syracuse, NY 13210
Phone:
315 464-4891
Fax:
315 464-4905
Email:
harek@upstate.edu
Our History
The Department of Anesthesiology at Upstate Medical University, Syracuse, New York, was established in 1960 previously having been a Division of the Department of Surgery under the direction of Dr. E. Joseph Delmonico.
The first Chairman of the department was Dr. Allen B. Dobkin who initiated the policy of all-physician anesthesia and a strong commitment to research which has persisted to this day. During his chairmanship, 1960-1973, much research was done on the pharmacology and biochemistry of new anesthetic agents including enflurane and the first 200 human administrations of isoflurane, as well as extensive investigations of the metabolic and neuroendocrine effects of general anesthesia and their interactions with hypoxia, hypercarbia and blood loss. In 1965 University Hospital moved into its current building and the number of faculty as well as residents, increased. Dr. Edward T. Thomas was Chairman from 1973-1976 followed by Dr. Howard Zauder, 1977-1988, during whose tenure the department continued to strengthen its teaching program and began an ongoing interest in interactive computer teaching. Other areas of special interest included the use of blood and blood products and the use of fiber-optic endoscopy, as well as the development and rapid expansion of the Pain Treatment Service.