Annual Reports & Newsletters
Advocate of the Year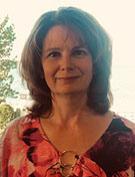 Bev Lauricella
When COVID-19 restrictions prevented the Advocates from hosting Mystery, Malt & Merlot as an in-person event, Bev played a role in selecting an event software program that allowed us to present it as an online auction. She then dedicated her time to build, administer and subsequently monitor the site throughout the auction's one-week run. She then adapted the site to create the Advocates' first online Year-End campaign that generated revenue for our Nellie Hurley Scholarship Program.
Bev joined the Advocates and its Board of Directors in 2018. Since then, she has served on several Advocates committees. She is the administrator of our Facebook page where her expertise in social media has resulted in increased awareness of our organization. She was named Advocates' Interim Vice-President of Marketing in 2020.
Bev previously volunteered at Upstate through PAWS (Pet Assisted Wellness Services) with her therapy dogs. Upon retiring her therapy dogs, she wanted to continue to volunteer with Upstate as she strongly believes in its mission and joined the Advocates board.
Within the community, she has volunteered on several boards and has served as chair for many different committees. By trade she is an analyst, previously being a lead on cross functional teams, participating in strategic plan development, and being responsible for forecasting and market analytics.
In her spare time, Bev travels with her husband, Kevin, and enjoys spending time on Oneida Lake at their cottage with friends and family.
Advocates Annual Report
Advocates Newsletter
The Advocate, Advocates for Upstate's Newsletter is published quarterly.