Office of Interprofessional Education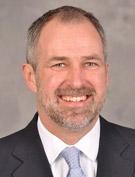 Darren J. Carboni, MBA
Director, Office of Interprofessional Education
Phone: 315 464-3915
Email: carbonid@upstate.edu

Events Calendar
No events, please check back later.
The Office of Interprofessional Education at Upstate Medical University is dedicated to promoting the development of teamwork, collaboration, and communication skills within Upstate Medical University's curriculum to fulfill the four core competencies of Interprofessional Education: Values/Ethics, Roles/Responsibilities, Interprofessional Communication, and Teams/Teamwork.
Work with individuals of other professions to maintain a climate of mutual respect and shared values. (Values/Ethics for Interprofessional Practice)
Use the knowledge of one's own role and those of other professions to appropriately assess and address the health care needs of patients and to promote and advance the health of populations. (Roles/Responsibilities)
Communicate with patients, families, communities, and professionals in health and other fields in a responsive and responsible manner that supports a team approach to the promotion and maintenance of health and the prevention and treatment of disease. (Interprofessional Communication)
Apply relationship-building values and the principles of team dynamics to perform effectively in different team roles to plan, deliver, and evaluate patient/population centered care and population health programs and policies that are safe, timely, efficient, effective, and equitable. (Teams and Teamwork)
(From the Interprofessional Education Collaborative, "Core Competencies for Interprofessional Collaborative Practice: 2016 Update")
Interprofessional Education (IPE) occurs, "when students from two or more professions learn about, from and with each other to enable effective collaboration and improve health outcomes." (From: World Health Organization, 2010)
The Office of Interprofessional Education works to co-create interprofessional learning opportunities with significant input from faculty, staff, and students in order to develop educational sessions that prepare students to support the triple aim of healthcare.
We continuously review and assess our programming to improve our offerings and to create scholarship that advances the field of Interprofessional Education.
This Office is separate from, but works in conjunction with, all of Upstate Medical University Colleges. We also work closely with our other internal teams including:
The Upstate Core IPE Team, comprised of faculty and student members of the College of Medicine, College of Graduate Studies, College of Nursing and College of Health Professionals and other departments, is currently charged with:
Formalizing criteria for quality IPE experiences
Piloting new programs and experiences to meet accreditation needs
Developing scholarship and collecting data from IPE learning events to measure learning outcomes for faculty, staff, and students
Developing a structured online repository of IPE knowledge, plans, and assessments
Collaborating with area colleges and universities on IPE initiatives
Our vision is that all Upstate students, faculty and staff will be widely recognized for their readiness and success in interprofessional collaborative practice.