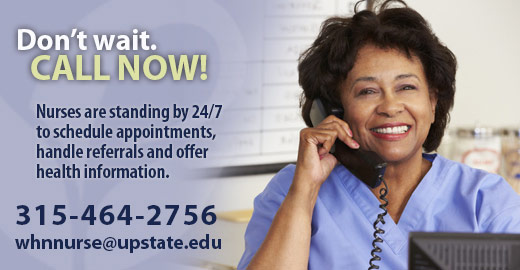 Contact a Nurse Liaison
Contact:
Melissa Cosser, MS, RNC,
WHN Nurse Liaison
Toll Free:
855-890-UWHN
Phone:
315-464-2756
Email:
whnnurse@upstate.edu
A dedicated Nurse Liaison with 25 years of experience in women's healthcare is available to assist in accessing the most up-to-date information on the highly qualified providers to meet your healthcare needs.
Whether it is a new diagnosis or simply scheduling a pap test or mammogram, the Nurse Liaison for the Women's Health Network will work with you to determine the best course of action and then help to coordinate the appointments you need.
Our goal is to connect you to the most appropriate health care. Since Upstate University Women's Health Network has so many providers and locations, we will find the one that works best for you.