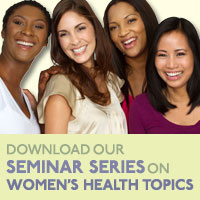 Womens Health Wellness Center
This Week's Feature
Significant Weight Loss Boosts Sex Life
Obese individuals who slim down enjoy enhanced love lives, a new study finds. A Duke University study finds that dropping the extra weight may bring big gains in the bedroom for those who struggle with obesity—but not for the reasons you may think.
Also Inside
Visit our women's health library of articles on the following topics:
OB/GYN Health Guide
From fertility to breast cancer, this resource covers all health matters obstetrical and gynecological.
Women's Conditions
Therapeutic and Wellness Centers
Women's Health Guide
From baby care to osteoporosis, this is a great resource for health issues that are of special concern to women.