Female Urology & Urodynamics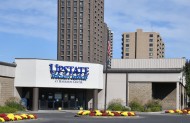 Female Urology & Urodynamics
Upstate Specialty Services at Harrison Center
Map & directions
Suite N
550 Harrison Street, Syracuse, NY 13202
Phone:
315 464-1500
Fax:
315 464-6117
Office Hours:
7:30am-4:30pm
---
We at Upstate Urology understand that a Woman's Urological conditions are among the most uncomfortable and unpleasant health problems. Medical treatments are constantly changing and advancing.
As a result, a patient's quality of life and outcomes are continually improving—patients no longer need to live with:
Urinary Incontinence
Overactive Bladder
Voiding Difficulties
Pelvic Pain
Pelvic Organ Prolapse
Pelvic Injury
Hematuria (blood in urine)
Kidney Stones
Accurate diagnosis of your condition is key to successful treatment. Our approach to diagnosis and treatment is individualized. We use state of the state-of-the-art diagnostic procedures available right in our clinic.
In addition to a complete history and physical exam, these may include:
Cystoscopy
Urodynamics
Bladder Scan
Uroflow
During your appointment you will be seen by a Urologist and a professional nursing team. By the end of your first appointment we will formulate your individualized diagnostic plan. We believe in minimally invasive treatments and minimal impact surgical approach for those who need it.
Physician
Dmitriy Nikolavsky, MD
315 464-1500
Diseases/Specialties/Treatments:
Urology; Cystocele; Neurogenic Bladder; Overflow Incontinence; Pelvic Floor Disorders; Pelvic Organ Prolapse;
more
Education:
Wayne State University School of Medicine
Associations/Memberships:
American Urological Association (AUA); Society of Urodynamics, Female Pelvic Medicine and Urogenital Reconstruction (SUFU); Society of Genitourinary Reconstructive Surgeons (GURS)
---
Srinivas Vourganti, MD
315 464-1500
Diseases/Specialties/Treatments:
Urology; Urologic Oncology; Bladder Cancer; Kidney Cancer; Penile Cancer; Prostate Cancer;
more
Education:
Ohio State University College of Medicine
---