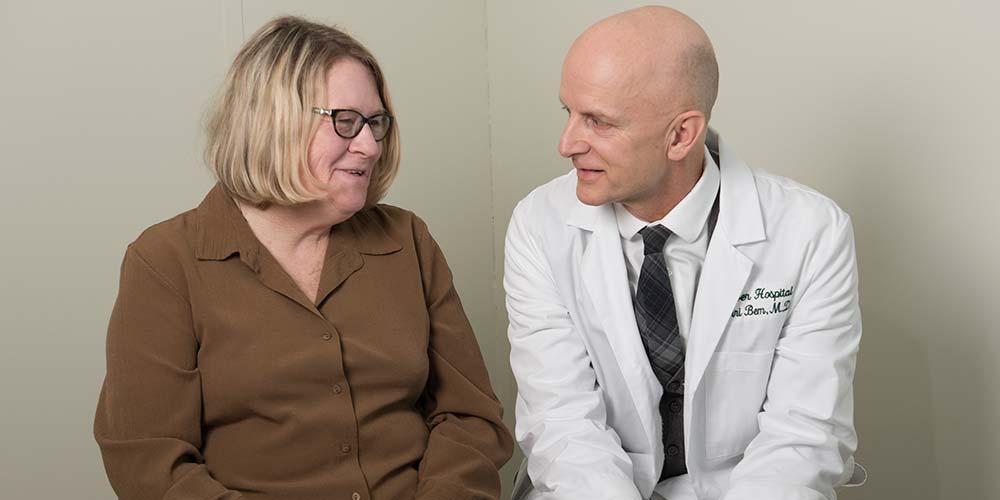 Surgical Specialties
Upstate University Hospital - Downtown Campus
Rm 222,
750 East Adams Street
Syracuse, NY 13210
Map & directions
Phone:
315 464-1800
Fax:
315 464-6252
Upstate's Colon and Rectal Surgery Division provides comprehensive treatment for patients with problems of the small intestine, colon, rectum, and anus.  We offer both surgical and nonsurgical management of a wide range of conditions, while remaining focused on the person before us suffering with the problem.
Our team of highly experienced Board Certified colon and rectal surgeons includes Dr. Jiri Bem, Dr. Jeffrey Albright, and Dr. Amit Goyal. We offer surgical treatment of patients at the Upstate University Hospital—Downtown campus and the Upstate University Hospital—Community General campus. We specialize in providing state-of-the-art treatment, including laparoscopic and robotic surgery.
Our Services
Consultation
Evaluation
Diagnostic procedures, including endoscopy
Treatment (surgical and nonsurgical)
A Team Approach
Our colon, rectal and anal cancer patients get the benefit of a team approach to their cancer care.  We use a multidisciplinary (team) approach to each cancer, including input from Medical Oncology, Radiation Oncology, Radiology, and Pathology, as well as Ostomy Care nurses. This team approach lets us individualize the care we provide for each patient, and keeps a seamless approach to patient care that is a strength of our comprehensive cancer program at Upstate.
We also have extensive experience treating a wide variety of benign (non-cancerous) colon, rectal and anal problems. These include hemorrhoids, fissure, fistulas, diverticulitis, incontinence, and inflammatory bowel disease (Crohn's disease and ulcerative colitis.)
Our Location
The Colorectal Surgery Clinic and ostomy services are located on the 4th floor Upstate University Hospital—Downtown campus, 750 East Adams Street, Syracuse, NY 13210. Garage parking is available in the East Garage adjacent to the hospital, and is accessible through the pedestrian bridge to the hospital.
Colorectal Surgery procedures are performed at the Downtown campus, as well at the Upstate University Hospital—Community Campus, 4900 Broad Road, Syracuse, NY 13215.