Content
Telemedicine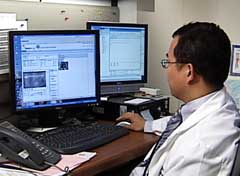 Dr. Gene Latorre teleconferencing with an area hospital.
Time is brain.
Rapid evaluation and treatment of patients is the best way to minimize long term effects of stroke. The Upstate Stroke Center uses state of the art technology to provide immediate access to advanced stroke care through an innovative Telemedicine Program. The program supplies immediate expertise and resources of our Board Certified Neurologists to the regions affiliated community hospitals 24 hours a day, seven days a week.
The technology allows the neurologist to perform an exam on stroke patients and quickly decide if they are a candidate for time sensitive treatment such as the clot buster drug, tissue plasminogen activator (tPA), which can help save brain cells and decrease chance of disability related to stroke. If the patient is not eligible for tPA via an IV line, the patient can be transferred to Upstate for more advanced therapies such as clot retrieval, interarterial tPA, and advanced Neurosurgery.
Regional Hospitals
Via teleconferencing equipment, Upstate's Board certified Stroke physicians have instant access to the Emergency Department's of partnering regional hospitals. Using interactive computer videoconferencing via a secure internet network, the Upstate Neurologist and the patient, family and healthcare provider at the outlying hospital hear and see each other in real time. In addition to the telemedicine technology, which allows the patient to see the consulting Neurologist, the entire team of Upstate specialists are able to view CT scan images. This advanced technology enables physicians at Upstate to become virtual "on-site" consultants for outlying hospitals who do not have neurologists on staff.
Goals
Goals of the Stroke Telemedicine Program are to:
Provide immediate access to stroke care experts
Provide prompt medical evaluation and accurate diagnosis of stroke
Initiate timely tPA treatment to improve outcomes and reduce risks and complications from a stroke
Provide 24/7 access to specially-trained neurologists and neurosurgeons specializing in stroke care
Provide Access to catheter-based stroke treatment including interarterial thrombolysis, stenting and clot retrieval devices
The stroke telemedicine initiative also includes a comprehensive education program for medical staff, nursing staff, ancillary personnel, and pre-hospital care providers.