SUNY Upstate's Multi-Specialty Pediatric ECHO launched in January 2018. Our Multi-Specialty Pediatric ECHO is currently focusing on the following conditions:
Pulmonology
Gastroenterology
Neurology
Infectious Disease
Environmental Health
In the coming months we will be adding in more specialties such as hematology/oncology, endocrinology, and many more. Our teleECHO clinics are a great way for providers to present cases on these specialties and get immediate answers and recommendations from a community of peers and specialists.
If you would like to join our teleECHO clinics please click on the "Register for a Clinic" tab or contact Deidre Keefe at keefed@upstate.edu.
Pediatric ECHO Staff
Dr. Thomas Welch
Tom Welch, MD is Professor and Chair of Upstate's Department of Pediatrics, and is the Medical Director of the Upstate Golisano Children's Hospital. His clinical specialties are pediatric nephrology and inpatient hospitalist medicine. He is an active clinician scientist, with over 200 publications. He is a noted pediatric educator, who has been an invited speaker or visiting professor nationally and internationally.
Dr. Christopher Fortner – Pulmonology
Dr. Prateek Wali - Gastroenterology
Prateek D. Wali, MD, FAAP, is a graduate of SUNY Upstate Medical University. He trained in pediatrics at Upstate Golisano Children's Hospital (GCH) and completed his fellowship in pediatric gastroenterology, hepatology, and nutrition at Nemours A.I. duPont Hospital for Children. Dr. Wali has been practicing since 2010 at GCH where he is currently the division chief of pediatric gastroenterology. His clinical and research interests are focused on children with inflammatory bowel disease. Dr. Wali is also a clinical associate professor of pediatrics at SUNY Upstate. He is board certified in pediatrics and pediatric gastroenterology and a member of the North American Society for Pediatric Gastroenterology, Hepatology, and Nutrition. He enjoys cooking and hosts a blog at haakandchai.com.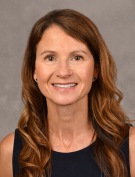 Dr. Jana Shaw – Infectious Disease
Jana Shaw MD, MPH is a practicing pediatrician specializing in infectious diseases and an expert on vaccines and immunology. Dr. Shaw is Associate Professor of Pediatrics at the SUNY Upstate Medical University, Syracuse, NY and a chief medical officer at the North Country Family Health Center in Watertown, NY. She is a member of pediatric and infectious disease professional societies and a member of the International Affairs and Communications Committees of the Pediatric Infectious Disease Society. Her research interests focus on improving vaccination coverage in children. She has authored numerous publications focusing on vaccine hesitancy and is an active vaccination advocate.
Dr. Ai Sakonju - Neurology
Dr. Travis Hobart – Environmental Health
Dr. Melanie Comito – Hematology/Oncology
Dr. Susan Stred - Endocrinology
Susan E. Stred, MD is Clinical Professor of Pediatrics in the Division of Endocrinology at SUNY Upstate and the Upstate Golisano Children's Hospital. Dr. Stred is a graduate of the University of Cincinnati College of Medicine, trained in pediatrics at SUNY Upstate, and completed her fellowship in Pediatric Endocrinology at the University of Michigan. She returned to Upstate as a faculty member in 1990. Dr. Stred is board certified in Pediatrics and Pediatric Endocrinology, and is a member of the Endocrine Society and the Pediatric Endocrine Society. Clinical interests include endocrine disorders in survivors of childhood cancer, differences in sex development, Turner syndrome, and disorders of the pituitary gland. Dr. Stred sings with Symphoria in two elite choruses, and also enjoys swimming, jazz, and quilting.