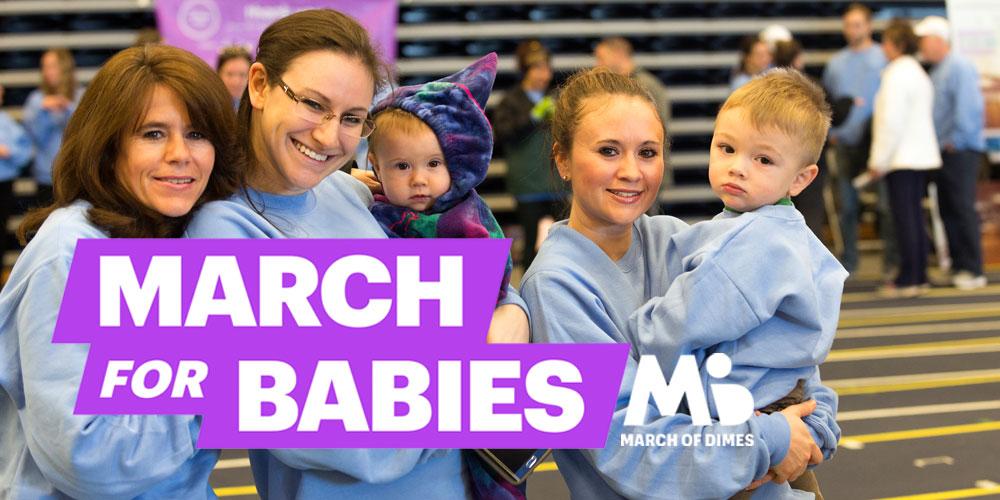 Join Team Upstate - March for Babies

A 3-mile walk to raise money to support lifesaving research, community services, education and advocacy - so that one-day all babies will be born healthy. But we'll have to walk to get there!
Team Upstate welcomes all Upstate students, employees, volunteers, advocates, friends & families!
How to Order an Upstate Team Shirt
Donate a minimum of $35 ($25 students and children)  - either on-line or give to any Team Captain 
Email your shirt size Women's (XS - 4XL), Men's (XS - 4XL) and Youth (XS - L) to any Team Captain by August 21 (links preview images of the shirt style)

Shirts will be sent via interoffice to Team Captains the week of September 10. 
Please note that there is no minimum donation required and no registration fee to participate in a March for Babies event. But if you would like a Team Upstate shirt you will need to register and donate (via paper or online) a minimum of $35 (adult) and/or $25 for each student or youth and provide your sweatshirt size to your Team Captain by August 21. 
Team Captains: 
Jaci Colombo, Team Upstate Family Birth Center Community Campus, 315-492-5573
Deb DeCew, Ambulatory Services, 4-3871
Zanette Howe, Team Upstate Office of External Relations, Marketing/PR, x4-4263
Christine Nackley, Team Upstate Financial Services Galleries, x4-8040 
Kim Forbes-Bloome, Team Upstate IMT Galleries, x4-4121 
Kim Rouselle, Team Upstate Hyperbarics, x4-4910
Lisa Gooley, Team Upstate Human Resources, x4-4927
 
When
Sunday, September 16, 2018
10 am - Registration begins
10:40 am - Team photos at the Upstate sign
11 am -  Superhero Sprint & 3-mile walk begins
Where
SRC Arena
Onondaga Community College
4585 West Seneca Turnpike, Syracuse - get directions

How to Register
NEW PARTICIPANTS 
1) New User instructions on how to register:
Register ONLINE NOW
Choose the Join a Team option. (You will be able to search by Team name or by Team Captain on the next screen)
Enter all required information- required information with have a "*". If your username is being rejected it may already be in use in our system, try a different Username. Once you have entered a username and twice entered your desired password then please click on "SUBMIT"
You will then be brought to the "REVIEW MY EVENT" page. if you wish to change the event selected please click on the "Change Location" link located just beneath the "Event Information".
You must then enter a Fundraising Goal and click the "CONTINUE" option
You can then either make a personal donation to your fundraising page or choose to continue on to view/edit your personal page which will allow you to change any of your personal information, fundraising goal, or fundraising message.
You will now be brought to your personal fundraising page where you can begin to fundraise. 
 RETURNING PARTICIPANTS 
If you already have a March for Babies account and would like to active your account for this year's campaign please login with the same username and password from the previous year. Please viist here and click "sign in" at the top right hand side of the page. If you forgot your username and password you will be able to recover them by clicking "forgot username" or "forgot password" 
2. At any ON-SITE REGISTRATION:
Tuesday, September 11
noon-1pm
Downtown - University Hospital 2nd floor lobby
Thursday, September 13
noon-1pm
Community Campus - Cafeteria
3. Contact any Team Captain for a paper registration form, and return it to them with payment by August 21. 
 Additional Fundraising
Don't stop fundraising -The March of Dimes has a full range of prizes for many levels of fundraising!
Additional donations can be turned in at the March of Dimes tent on event day.
For more information:
Contact
Christine Nackley at 464-8040 or nackleyc@upstate.edu Contact Jaci Colombo at 315-492-5573 or colomboj@upstate.edu Contact Zanette Howe x4263 or howez@upstate.edu