Content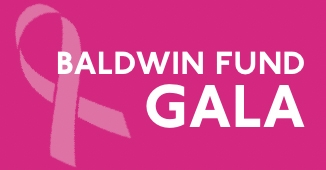 Baldwin Gala
To benefit the Carol M. Baldwin Breast Cancer Research Fund of CNY and support grants awarded to Upstate Medical University's Breast Cancer Research Program.
What
Join us as we celebrate our research efforts in Central New York. The evening features locally-sourced foods, wines, and brews with music by DJ ET and a fireworks show. 

The Baldwin Fund has been a generous Upstate benefactor — all its fundraising goes to support research on our campus. Since 2002, the Baldwin Fund has provided over $3 million in grants for breast cancer research to Upstate Medical University.
When
Saturday, June 30, 2018
6 to 10pm
Where
Buttonwood Grove Winery

State RT 89, Romulus, NY 
Semi-formal attire (please note this is an outdoor event on the lawn. Stiletto heels may not be the best choice).
Accommdations 
The Gould Hotel 
Sceneca Falls, NY
315.712.4000
Promo code: Baldwin2018 
Discount room with $200 ticket purchase 
Parking & Transporation
Parking will be located at the Shops of Traders Village
Boathouse Beer Garden 6408 NY-89 Ovid, NY 14521
Shuttle service to Buttonwood Grove Winery will begin at 5:30pm and run through the evening. 
Tickets
$200 per person (cash, check or credit card; donations accepted)
$2,000 - table for 10
RSVP by June 5, 2018
No tickets issued - reservation held at the event
Upstate employees should contact Zanette Howe at 315.464.4836 for table reservation and individual tickets. 
The general public must call 315.672.5288 for information and individual tickets 
Sponsorship Opportunities
Platinum - $10,000 - Cocktail Sponor, Journal Sponor, Auction Sponsor, Visual Presentation Sponor, Fireworks Show Sponor. Sponsorship includes: 10 Garden Party tickets, Full page journal ad, Company logo on cocktail napkins, Company logo included on Garden Party welcome banner 
Gold - $5,000 - Sponsorship includes: 10 Garden Party tickets, Full page journal ad, Company name on Baldwin website, Company logo included on the Garden Party welcome banner 
Silver - $3,000 - Sponorship includes: 6 Garden Party tickets, Full page journal ad, Company logo included on the Garden Party welcome banner 
Bronze - $1,000 - Sponorship includes: 2 Garden Party tickets, half page journal ad, Comapny logo included on the Garden Party welcome banner
Advertising opportunities in the commemorative journal
Inside front cover - $2,000
Inside back cover - $2,000
Back cover - $2,000
Full page - $150
Half page - $80
Business card ad - $35
Single line 'in memory of' - $15
Deadline for journal ads - May 18, 2018
Send digital submissions to Zanette Howe at howez@upstate.edu
---
2018 Honorees
Humanitarian Award
Gennady Bratslavsky, MD 
Professor + Chair of Urology 
SUNY Upstate Medical University

Figum Laudis Award
Diana Sleiertin 
Scott Dombroski
MaxMan Reptile Rescue 
Philanthropic Awards 
Ronald M. Milback 
Milback Construction 
Ed + Pam Levine 
Galaxy Media + Events
Cynthia Kolko 
The Summit Federal Credit Union  
For more information:
Upstate employees only - contact Zanette Howe at howez@upstate.edu or 315.464.4263
Public - please call 315.672.5288