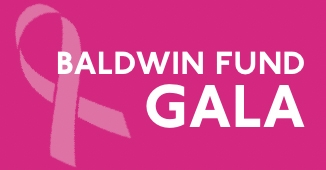 To benefit the Carol M. Baldwin Breast Cancer Research Fund of CNY and support grants awarded to Upstate Medical University's Breast Cancer Research Program.
What
This unique evening will begin with cocktails, hors d'oeurves & dinner stations followed by a silent auction, live auction, photo booth, and dedication to honorees and families.

The Baldwin Fund has been a generous Upstate benefactor — all its fundraising goes to support research on our campus. Since 2002, the Baldwin Fund has provided over $3 million in grants for breast cancer research to Upstate Medical University.
When
Friday, May 31, 2019
6:30 to 10:30pm
Where
Marriott Syracuse Downtown 
Semi-formal attire 
Accommdations 
Marriott Syracuse Downtown 
100 East Onondaga Street
Syracuse, NY
13202
Hotel Reservation Reference "Carol Baldwin Breast Cancer Research Fund of CNY" 
ROOM RATE: $149
Call: 315-474-2424
Last day to book is Tuesday, April 30, 2019
Parking & Transporation
Valet parking available
Parking for Marriott Syracuse Downtown 
Harrison parking garage 
100 Harrison place, Syracuse, NY 13202
Tickets
$225 per person (cash, check or credit card; donations accepted)
$2,000 - table for 10
$2,400 - table for 12
RSVP by May 10, 2018
No tickets issued - reservation held at the event
Upstate employees should contact Zanette Howe at 315.464.4836 for table reservation and individual tickets. 
The general public must call 315.345.3649 for information and individual tickets 
Sponsorship Opportunities
$5,000 - Sponsorship includes: 6 Gala tickets, name on cover of journal, full page ad in journal, Facebook and Instagram promotion for event, audio recoginition during the event in Marriott Syracuse Downtown lobby, Perisan Terrace, and Finger Lakes Ballroom 
 Advertising opportunities in the commemorative journal
Inside front cover - $2,000
Inside back cover - $2,000
Back cover - $2,000
Full page - $150
Half page - $80
Business card ad - $35
Single line 'in memory of' - $15
Deadline for journal ads - April 8, 2019
Send digital submissions to Zanette Howe at howez@upstate.edu
---
2018 Honorees
Humanitarian Award
Dr. Lisa Lai
Assistant Professor of Surgery
Medical Director of the Breast Cancer Center
SUNY Upstate Medical University
Figum Laudis Award
Dee Duger
Carol M. Baldwin Breast Cancer Research Fund of CNY
Philanthropic Awards 
Bruce & Brian Rapp
Bill Rapp Superstore
Eddie & Marianne Brennan 
Beak & Skiff Apple Orchard
1911 Established 
David & Melissa Pittard & Crew 
Buttonwood Grove Winery 
Sistina Giordano
News Channel 9
Bridge Street Host
For more information:
Upstate employees only - contact Zanette Howe at howez@upstate.edu or 315.464.4263
Public - please call 315.672.5288